Danny Kaye: The Goldwyn Years Film Collection
Category:
Blu-ray's and DVD's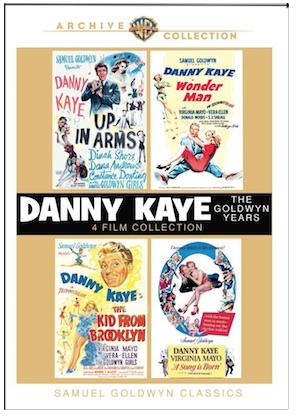 Danny Kaye could do it all: dance, sing, drama, and comedy. Danny Kaye: The Goldwyn Years Film Collection shows all of his talents.
This collection of Danny Kaye films includes his first starring role in a feature film, the 1944 movie Up in Arms. Three other films make up this collection: Wonder Man (1945), The Kid from Brooklyn (1946), and A Song is Born (1948).
Up in Arms co-stars Dana Andrews, Dinah Shore, and Constance Dowling in a whacky story of Danny Weems (Kaye), a hypochondriac in love with a nurse (Dowling) who has feelings for Weems' roommate Joe (Andrews). And to top it off, another nurse, Virginia (Shore), is in love with Weems. That makes quite a foursome. Then, when the men get drafted, the women enlist and, to make a 105-minute story short, they all end up on a troop boat with some pretty madcap adventures.
In Wonder Man Kaye plays two parts – Buzzy Bellew and Edwin Dingle. Bellew, a nightclub performer, witnesses a gangland murder and is hunted down and killed. He returns as a ghost and enlists the help of his nerdy twin, Dingle, to help solve his murder. Vera-Ellen, Virginia Mayo, and Steve Cochran co-star in this often-entertaining musical story.
The Kid from Brooklyn has Kaye in another nerdy role. He is Burleigh Sullivan, a milkman who accidentally knocks out a boxing champion, not once but twice. To make a buck, the boxer's manager decides to set Burleigh up as a fighter. The innocent guy has no idea his opponents are paid to take a dive. So Burleigh thinks he really can take on the champ. Virginia Mayo, Vera-Ellen, and Steve Cochran co-star with Kaye again.
A Song is Born has Kaye yet again playing a nerdy character. This time he is Hobart Frisbee, a shy music professor working along with several other music professors on a music biography. They have been basically locked away for years working on this project until Hobart discovers he has been missing the evolution of music. So, he goes out into the world to get a taste of the new music. He meets a nightclub singer, Honey Swanson (played by, who else but Virginia Mayo), who coerces him into falling for her. She is trying to get out of testifying against her gangster boyfriend. But who falls for whom? That's the question. What makes this a fun movie are the famous musicians who guest-star: Benny Goodman, Tommy Dorsey (as himself), Louis Armstrong (as himself), Mel Powell (as himself) Lionel Hampton (as himself), and Charlie Barnet (as himself). For connoisseurs of music these names mean something. They were the top musical talent of the day. Mixing real musicians as themselves into this fictional whacky musical story is what gives this film the power it has over viewers.
Danny Kaye: The Goldwyn Years is not rated. I would say it is best for ages over 13. This four-film collection is part of the Warner Archives Collection and is available from their website at www.wbshop.com.
About the Author
Francine Brokaw has been covering all aspects of the entertainment business for 20 years. She also writes about technology and has been a travel writer for the past 12 years. She has been published in national and international newspapers and magazines as well as Internet websites. She has written her own book, Beyond the Red Carpet: The World of Entertainment Journalists, from Sourced Media Books.
Follow her on Twitter
Like her on Facebook