Danny Kaye Double Feature DVD
Category:
Blu-ray's and DVD's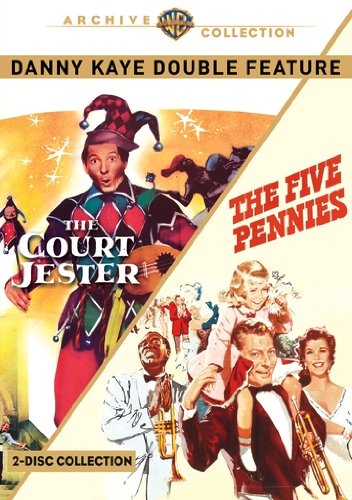 This DVD set contains two films starring Danny Kaye and showcasing both his dramatic as well as comedic talents.
The Court Jester
This 1955 comedy highlights Danny Kaye's comedic genius. It's a spoof of medieval times. This musical comedy contains one of Kaye's most memorable dialogues in which he must remember where the poison is. "The pellet with the poison's in the vessel with the pestle, the chalice from the palace has the brew that is true." Then it changes to "The pellet with the poison's in the flagon with the dragon, the vessel with the pestle has the brew that is true." Or, is it something different? This routine is one of the classic comedy scenes in Hollywood history.
Glynis Johns, Edward Ashley, Basil Rathbone, Angela Lansbury, and Cecil Parker co-star however the show is carried by Kaye as he stumbles and bumbles his way into a plot to overthrow the king.
The Five Pennies
This 1959 film calls on Kaye's dramatic abilities as he portrays real life jazzman and coronet player Red Nichols who rises to fame in the music world. As a matter of fact, his band mates included Jimmy Dorsey and Glenn Miller, and he joined forces with Louis Armstrong (who appears as himself). The real Red Nichols recorded the coronet songs for Kaye.
Nichols' rise in the music world was cut short when his daughter Dorothy contracted Polio. His guilt overtook him and he decided to quit playing and settle down in one place instead of traveling around the country. Tuesday Weld appears as Dorothy at age 13.
The Five Pennies is filled with music and fun, as well as a heartening story of love and devotion. It was nominated for 4 Academy Awards
Danny Kaye starred in several films including the classic holiday movie White Christmas. He was the consummate song and dance man, with a great ability for comedy and drama. He was everything all rolled into one.
The Danny Kaye Double Feature DVD is part of the Warner Archive Collection and is available from their website at wbshop.com.
About the Author
Francine Brokaw has been covering all aspects of the entertainment business for 20 years. She also writes about technology and has been a travel writer for the past 12 years. She has been published in national and international newspapers and magazines as well as Internet websites. She has written her own book, Beyond the Red Carpet: The World of Entertainment Journalists, from Sourced Media Books.
Follow her on Twitter
Like her on Facebook