Daniel Tiger is a Big Brother
Category:
Television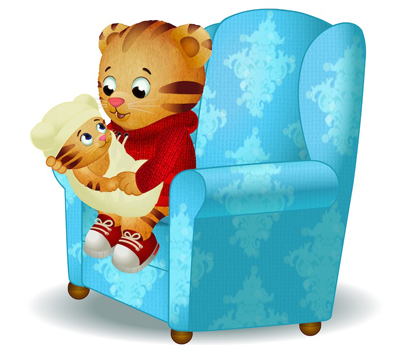 The Tiger family is growing this season. Daniel is learning how to be a big helper and…a big brother.
When Daniel learns he is going to be a big brother, he has many emotions. He's happy, excited, a little jealous, and concerned. The episodes deal with everything going on in Daniel's life and his new role as big brother.
Waiting for the new baby is a time of fun, as Daniel helps his mom and dad put the crib together, paint the baby's room, and prepare for the arrival of the baby. In the beginning, Daniel finds sharing his old baby things a bit troubling, and then he understands he cannot use them any more, so he decides to happily share them with the baby. But is the baby going to be a boy or a girl? Everyone has to wait for the arrival to find out.
When baby Margaret joins the Tiger family and the neighborhood, excitement grows. Daniel is a good big brother, and learns patience when dealing with the baby.
For any family dealing with growth, this is a good way to introduce the arrival of a new baby via Daniel. He may be a tiger, but he is also a little guy and his emotions are no different than those of human children. Through Daniel kids learn what to expect and how to handle the arrival of a new addition to the family. Having another child in the house is a new experience.
The season premiers with a one-hour special on August 18, 2014. It's then when Daniel learns he is going to be a big brother, and then during the second part of the special, Daniel – and everyone – meets baby Margaret. The next day, August 19, Daniel learns to adjust to having another child in the house, and on Wednesday, August 20, Margaret adds some variety to the family, which can be fun.
Daniel Tiger's Neighborhood is based on the characters from Fred Rogers. It is not only an educational show, but also entertaining as the characters and songs are fun for kids to watch and listen to. Daniel is an adorable character that is happy, friendly, and very helpful, especially when learning how to be a big brother.
Daniel Tiger's Neighborhood airs on PBS Kids. Look for the second season premier week with the arrival of baby Margaret August 18, 2014.
About the Author
Francine Brokaw has been covering all aspects of the entertainment business for 20 years. She also writes about technology and has been a travel writer for the past 12 years. She has been published in national and international newspapers and magazines as well as internet websites. She has written her own book, Beyond the Red Carpet The World of Entertainment Journalists, from Sourced Media Books.
Follow her on Twitter
Like her on Facebook