Dangerous Romance Double Feature
Category:
Blu-ray's and DVD's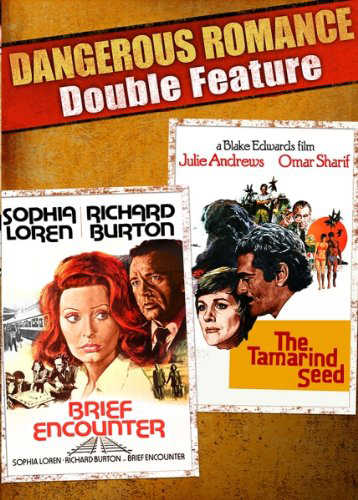 Two films from 1974 combine to make this DVD a great dramatic viewing experience. The Tamarind Seed stars Julie Andrews and Omar Sharif and Brief Encounter stars Sophia Loren and Richard Burton. What a foursome of talented actors!
The Tamarind Seed is a tense spy thriller with plenty of intense moments. Judith Farrow (Andrews) and Feodor Sverdiov (Sharif) meet while they are both on vacation in Barbados. Farrow works in London at the British Home Office and Sverdiov works in Paris at the Soviet Embassy. The cold war is at its peak so a friendship between a Soviet military expert and an assistant to a high-lever British government worker is cause for concern – for both sides.
The two are attracted to each other and in order to continue to see her Sverdiov tells his superiors he is attempting to enlist her to spy for the Soviets. Farrow is under suspicion from her government who wonders if she is exposing any secrets. But these two are only the tip of the iceberg in this intense spy drama. Other liaisons within the spy community come into play and as things unravel, Sverdiov decides the only way he can survive is to defect to the West. The plan is intricate and the finale is definitely worthy of any spy plot.
The Tamarind Seed is a mixture of espionage and romance, with the emphasis on the espionage. It's rated PG.
Brief Encounter is another tale of two people who find their relationship is not easy. This TV movie is a remake of a 1945 film. Anna Jesson (Loren) is a social worker who meets Alec Harvey (Burton) in a train station. They have an instant connection but their brief encounter lasts only a matter of moments. They are each married and their trains take them home in different directions.
Having the same schedules, they meet again and again on Wednesdays when they are both in town for their jobs. Their connection deepens and soon they are going to lunch together and spending more and more time with each other when their weekly schedules bring them to town.
Anna feels torn between her love – yes they fall in love – for Alec and her family. Alec is not in love with his wife and doesn't feel the same tug in his heart, yet he does not want to make Anna's life difficult. They both know they are deeply in love. What could come of their feelings?
Brief Encounter is a bittersweet story of heartfelt love and devotion. It's not rated.
Dangerous Romance Double Feature is a DVD combining two intense dramatic stories and four wonderful performances. It makes for a night of viewing filled with passion and emotion.
About the Author
Francine Brokaw has been covering all aspects of the entertainment business for 20 years. She also writes about technology and has been a travel writer for the past 12 years. She has been published in national and international newspapers and magazines as well as Internet websites. She has written her own book, Beyond the Red Carpet: The World of Entertainment Journalists, from Sourced Media Books.
Follow her on Twitter
Like her on Facebook