Dana's Best Jump and Jam Tunes CD GIVEAWAY
Category:
Giveaways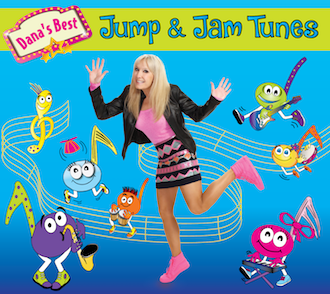 Through her five critically lauded albums and national tours, Dana has built a reputation for inviting youngsters to get off their screens and up dancing, jumping, playing and singing. Dana's Best Jump & Jam Tunes is her sixth highly interactive album release featuring 12 songs designed to get kids ages 1 to 7 up and moving, grooving and laughing. Wordplay, catchy melodies, and top-notch musicianship make this an engaging album of mostly original songs for the whole family to enjoy together.
The album includes counting songs ( "Legs" and a bluegrass spin of "Five Green and Speckled Frogs"), a Latin music inspired freeze dance ("Jumping Beans"), a rock & roll "Wiggle Workout," an egg shake ("Shakin' Things Up"), and a jazzy jumping jive dance ("Jump & Jive"). Humor is the hallmark of Dana's story songs ("Barnyard Hoedown" and "Fish Tale"), and she asks listeners to help make the planet smile with her inspirational "Do My Part." Listeners are invited to clang on pots and pans with "Grandma's Kitchen Band," and to move like the animals in "Follow the Leader." The album wind downs with the gentle musical hug that is "I Love Mommy."
We have some copies to giveaway.
To be eligible to win a copy of Dana's Best Jump and Jam Tunes, email us at [email protected] with "Jump and Jam Giveaway" in the title. Please supply your name, address, phone number and email address (so we can let you know if you are a winner).
The deadline for this giveaway is April 15, 2017.
Visit the website for more info and updates.