'D.O.A.' arrives on Blu-ray
Category:
Blu-ray's and DVD's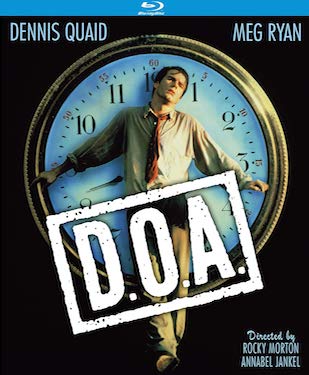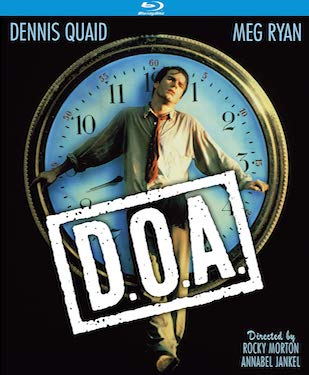 The 1988 version of D.O.A. stars Dennis Quaid as an English professor who is on the hunt for his killer. Meg Ryan, Daniel Stern, Jane Kaczmarek, and Charlotte Rampling join Quaid in this intense drama.
Dexter Cornell (Quaid) is a popular professor who has given up his writing career. He's content at the moment to teach and rests on his laurels. His soon-to-be ex-wife Gail (Kaczmarek) is not happy with the way their lives are heading and insists he sign the final divorce papers, which is something he doesn't want to do.
After one drunken night, he awakens in the dorm room of a student, Sydney Fuller (Ryan). Not feeling good about his behavior, and not feeling physically good at all, he decides to see his doctor. Does he have the flu? No. He has been poisoned. And there is no antidote. He will not survive another 48 hours.
Dex heads out on a quest to find out who murdered him. He enlists the help of Sydney who has had a crush on him for a long time but is apprehensive about tagging along as he retraces his steps from the previous day. Somewhere there is a clue as to who poisoned him and why.
While this intense quest leads them to various people, bodies start piling up. Before he was poisoned, his star pupil apparently killed himself. By the end of the film, there are six dead bodies (with two others who distantly figure into the story). But how are these people connected and why does anyone want a fun-loving English professor dead?
The story is interesting and while viewers are trying to put the pieces together (some might get it right) the plot thickens. This is a remake of the 1949 film with the same plot. Someone has been poisoned but who did it and why?
D.O.A. brings together Quaid and Ryan who were married a few years after the film came out. They had co-starred the previous year in Innerspace and during their marriage in the 1993 film Flesh and Bone.
D.O.A. is an interesting thriller with a good plot and wonderful cast. It is rated R.
About the Author
Francine Brokaw has been covering all aspects of the entertainment industry for over 25 years. She also writes about products and travel. She has been published in national and international newspapers and magazines as well as Internet websites. She has written her own book, Beyond the Red Carpet The World of Entertainment Journalists, from Sourced Media Books.
Follow her on Twitter