'Curious George: Royal Monkey' on DVD
Category:
Blu-ray's and DVD's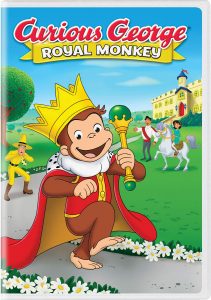 That loveable little monkey returns in an all-new movie. Curious George has been a beloved character for generations and this new movie shows off his adorableness and sense of fun. Little mischievous George and the stuffy royal monkey Feilipe accidentally trade places in Curious George: Royal Monkey.
When the royal family of Simiana visits the museum in which Ted (aka The Man in the Yellow Hat) works, they accidentally leave with George instead of their royal monkey. George accompanies them thinking he is going to Castleland, a royalty-themed theme park to get swept up in the royal fun of being royalty. But George soon discovers the problem. He has accidentally taken the place of their royal monkey Felipe.
In the meantime, Felipe is in the hands of Ted who decides to teach his ill-mannered monkey some manners. But Felipe is already well bred.
With Felipe in the U.S. and George in Simiana, things get topsy turvy. But in true George fashion, he brings some spunk and fun to the palace, and especially to Princess Isabel. This little girl is not pleased with her lot in life. She wants to experience some fun, but that is not the royal way. That is until little George enters the scene.
And snooty Felipe learns how to loosen up and have some fun while in the care of Ted.
When Ted finally learns that he doesn't have George but rather the royal monkey, things make sense to him. After all, it would take a lot longer than a day to teach George all the table manners that Felipe has. So he sets off to Simiana with Felipe to switch the monkeys.
The accidental switcheroo manages to help the royal family regain the fun of life which was lost years ago, and it re-enforces the true bond and love between Ted and George.
The DVD has no bonus features however it does come with two sheets of stickers. The movie is fun, with all the entertainment we have come to expect from Curious George. There is plenty of music and a wonderful story for all ages. Curious George: Royal Monkey is the forth Curious George movie. The film is rated G.
About the Author
Francine Brokaw has been covering all aspects of the entertainment industry for over 25 years. She also writes about products and travel. She has been published in national and international newspapers and magazines as well as Internet websites. She has written her own book, Beyond the Red Carpet The World of Entertainment Journalists, from Sourced Media Books, is the entertainment correspondent for Good Day Orange County, and has her own TV show, Beyond the Red Carpet, on Village Television in Orange County.Follow her on Twitter.