Crystal Gayle: 'You Don't Know Me' on CD
Category:
Books and Music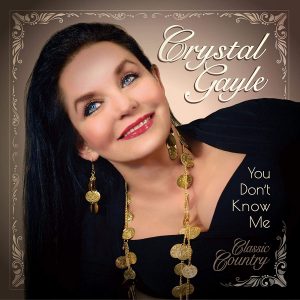 It has been about 16 years since we have been treated to a new album, aka CD, from Crystal Gayle. "You Don't Know Me" was just released and it is a treasure for fans of the country singer whose roots in the music industry are deep and beloved. Gayle is the sister to legendary performer Loretta Lynn and this release is truly a family affair with Gayle's son Christopher Gatzimos co-producing the project and both Lynn and their sister Peggy Sue Wright singing together as a trio for the track "Put it Off Until Tomorrow."
It is so much fun for fans of the singer to hear her again with some fresh recordings. I especially enjoy her rendition of "You Don't Know Me." Her soulful style combined with her recognizable voice makes this and all the tracks enjoyable and memorable.
"Please Help Me I'm Falling" is another oldie but goodie and with Gayle's voice it is even more impactful than ever. The trio of the three sisters has their voices blending with style and polish as they sing "Put it Off Until Tomorrow," a tune that listeners will be humming and singing long after the track is over.
"I Cried the Blue (Right Out of My Eyes) is a bit reminiscent of Gayle's hit song "Don't it Make My Brown Eyes Blue."
Crystal Gayle is a platinum recording artist and a CMA "Female Vocalist of the Year" two years in a row, as well as a Grammy Award winner for "Best Female Vocal Performance." Her awards kept piling up in the 1970s and 1980s as she cranked out hit after hit. Her deep voice combined with her long – long – hair made her a favorite among Country Music fans and People Magazine selected her as one of the 50 most beautiful people in the world in 1983. In 2017 she was inducted into the Grand Ole Opry.
She was born Brenda Gail Webb, but the name Crystal suits her because of her beautiful voice. Some of the songs I remember most from her past recordings are "Half the Way," "You and I," "Talking in Your Sleep," and of course, "Don't it Make My Brown Eyes Blue." This new collection of songs adds to her repertoire of memorable recordings and it's about time. After all these years it is good to hear her again and her fans will definitely appreciate every track on this new CD.
About the Reviewer
Francine Brokaw writes about products, books, travel, and entertainment. She has been published in national and international newspapers and magazines as well as Internet websites. She has written her own book, Beyond the Red Carpet The World of Entertainment Journalists, from Sourced Media Books, is the entertainment correspondent for Good Day Orange County, and has her own TV show, Beyond the Red Carpet, on Village Television in Orange County. Follow her on Twitter.