'Crown for Christmas' Premiers on Hallmark Channel
Category:
Television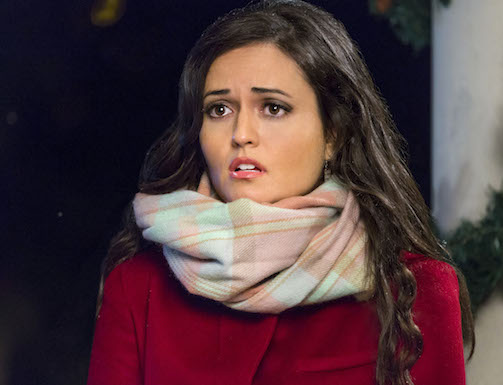 Crown for Christmas is the latest "feel good" holiday movie from Hallmark Channel. It's a little The Sound of Music, a little Mary Poppins, a little The Prince and Me, and a lot of enjoyable holiday entertainment.
Danica McKellar stars as Allie Evans, a 31-year-old woman living with her sister and brother in Brooklyn while they are all trying to survive and pay off their bills. Allie basically raised her siblings after their parents passed away, so she is no stranger to dealing with youngsters. This comes in handy when after being fired from her job as a maid in a fancy hotel she is hired as the nanny to a little girl in the country of Winshire.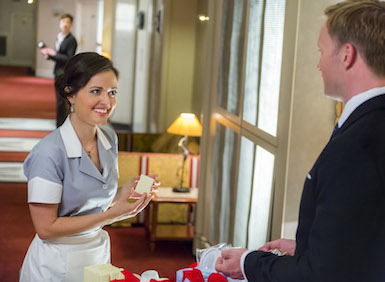 Back to the beginning…Allie was a maid in an upscale hotel. The King of Winshire occupied one of the rooms she was servicing. She had no idea who he was and actually ran into him, literally, with the cart. There was an instant attraction but he went his way and she went back to cleaning rooms. Then when his assistant Fergus (Pavel Douglas) overhears Allie being fired, he has an idea. She is offered the job as a governess for the two-week holiday period. Not wanting to leave her family but in dire need of the money, she takes the job and travels to the country of Winshire, where she learns she will be taking care of King Maximillion's (Rupert Penry Jones) daughter Theodora (Ellie Botterill).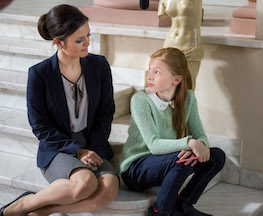 Princess Theodora is a handful. She starts off by informing Allie she doesn't need a governess. And she puts a rubber snake in Allie's dresser drawer. If that doesn't bring back memories of The Sound of Music, nothing will. This is a modern Sound of Music without the singing, one child instead of seven, and with a king instead of a captain.
Allie's down-to-earth ways of doing things, combined with her love of children endear her to everyone in the palace, including Princess Theodora. The Chancellor (Colin McFarlane) is put off by this newcomer to the palace. He is scheming to get the king to marry the Countess Celia who would complete the royal family by being the new queen. But Theodora doesn't like Celia and Celia doesn't like Theodora. (Another nod to The Sound of Music.)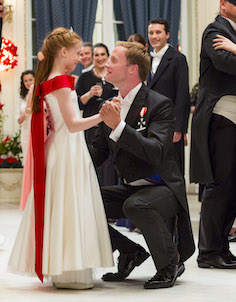 While the king is preparing for the holiday gala and the chancellor is forcing Celia on him, Allie and Theodora form a wonderful relationship. Theodora misses her mother and Allie is not a stranger to dealing with this herself. They both don't have mothers and they both share a love of life. It is Allie who actually brings Theodora out of her shell and back to enjoying her life. Along the way, she also brings the king out of his funk and makes him realize his daughter is more important than giving the country a new queen.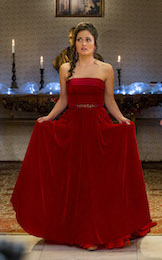 In the end he realizes he can do both. He can give the country the queen they have been waiting for since his wife died. It just won't be Countess Celia. It will be Allie Evans of Brooklyn.
Over the last week Allie and the king have fallen in love. Well you knew this was going to happen so this is no surprise. After all, it's a Hallmark Channel holiday movie. It's supposed to make viewers feel happy. And, take it from me, it delivers.
Crown for Christmas is completely enjoyable from start to finish. It premiers Friday, November 27, 2015 on Hallmark Channel.
About the Author
Francine Brokaw has been covering all aspects of the entertainment industry for 20 years. She also writes about products and travel. She has been published in national and international newspapers and magazines as well as Internet websites. She has written her own book, Beyond the Red Carpet The World of Entertainment Journalists, from Sourced Media Books.
Follow her on Twitter