Cricket Magazines offer "Double the Giving" Magazine Subscriptions
Category:
Books and Music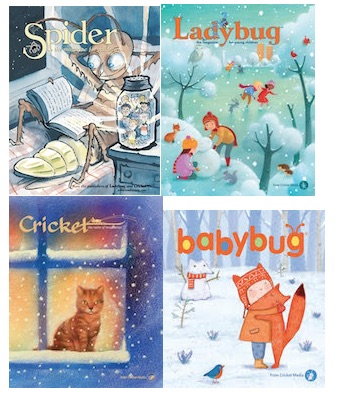 Since their founding in 1973, Cricket Media – the most award-winning magazine publisher in children's media – has opened incredible windows of creativity and discovery for kids of all ages. Each month, across 11 publications, their ad-free, child-centric magazines deliver stories with substance, beautiful illustrations and fantastic flights of fancy in highly visual format guaranteed to spark curiosity, inspire creativity and lead to a lifetime love of reading.
With "Double the Giving" throughout this November and December, any gift-giver purchasing an annual print subscription to one of four different Cricket publications will also deliver the gift of reading to a child in an underserved community through two award-winning, charitable partners: Libraries Without Borders and Parent-Child Home Program, both 2016 Library of Congress Literacy Award Winners.
Since 1973, the magazines in the Cricket family have sparked curiosity, inspired creativity and opened worlds of possibility in kids ages 3-16. Simply stack a year's worth of one of Cricket's magazines in front of a child, and they'll see months of great stories and interactive features; adults will see a lifetime foundation of literacy and learning. But many children do not have access to these experiences, and Cricket wants to help.
Give the gift of reading and experiencing new and exciting things. And when you do, you will be giving twice the fun with the "Double the Giving" program. Through the purchase of specially-discounted subscription bundles to BABYBUG (ages 6 mos.-3), LADYBUG (ages 3-6), SPIDER (ages 6-9) or CRICKET (ages 9-14) for $29.95 (regularly priced at $33.95), gift-givers can select between two charitable organizations to receive another 9-issue annual print subscription.
Check them out at this website.