'Crazy Ex-Girlfriend' returns to The CW for season 3
Category:
Television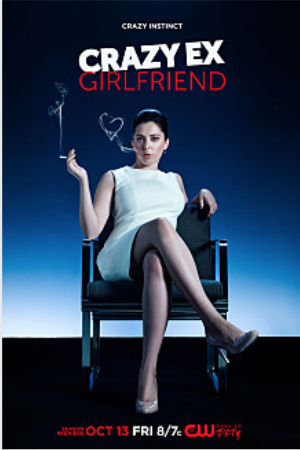 Rebecca (Rachel Bloom), a Woody Allen-esque Manhattan lawyer, took a leap of faith by following her summer camp crush Josh (Vincent Rodriguez III) back to his hometown, West Covina, California. The first season of this quirky musical comedy Crazy Ex-Girlfriend portrayed Rebecca in total denial; she was the Queen of 'I just happen to be here.' Despite countless cringeworthy schemes and embarrassingly convoluted excuses, she managed to find her way back to The One that got away a decade ago. Great wish fulfillment for those of us who never get such a do-over!
Rebecca botched that up, of course. In Season 2, she overlooked the red flags that should have alerted her to an ill-fated wedding day. She desperately clung to the fantasy of her knight in shining armor; she believed that Josh was the answer to her problems. She was on the blink of figuring out her serious Daddy issues when Josh barged in on her therapy session. To Dr. Akopian's disappointment, Rebecca took the easy way out by accepting his proposal.
Consider yourself lucky, Rebecca! No, I wasn't abandoned at the altar, but the ultimate betrayal and rejection came ten years later when my husband walked out on me. Ten precious years down the drain with nothing to show for. This is not a grief competition, I get that. Although I'd say you dodged a bullet, go right ahead into the jilted bride's revenge mode and punish the happy-go-lucky Josh for his cowardly escape into priesthood. Hell hath no fury like a woman scorned. Let's generalize about men and get back at them while you're at it, shall we?
Crazy Ex-Girlfriend returns for Season 3 on Friday, October 13, 2017. After two seasons of being 'crazy-in-love' and hence justifiable Rebecca, the show finally grows into its title and turns her into 'revenge-crazy' psycho Rebecca.
Although Rebecca tries so hard to put on a brave yet 'evil' face, her overall revenge schemes fail to impress. Maybe revenge is a dish best served cold. Maybe deep down inside she knows that resentment is like taking poison and waiting for the other person to die. Like a good lawyer, however, Rebecca exercises her rights to be heard! Good for you! Do whatever you need to and walk through your anger, pain, and sorrow. Seek who you are, not who you are without a man. Then, and only then, you will rise like a Phoenix from the ashes.
About the Author
Meg Mimura is a TV critic who actually watches shows zealously in search of human drama worth watching. She is a member of Television Critics Association as well as Academy of Television Arts and Sciences.