Country Music of Your Life CD Box Set
Category:
Books and Music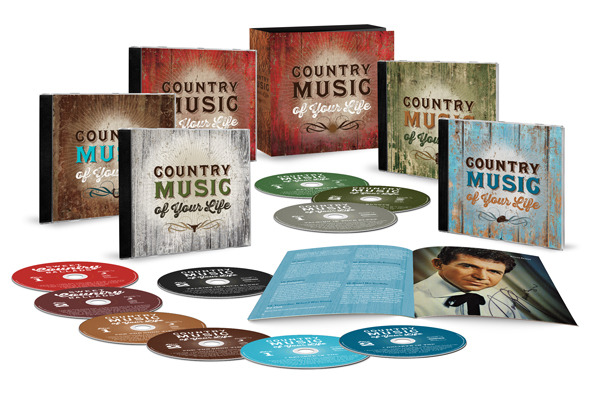 The hit TV series Nashville brought country music to the forefront of the nation's attention. Today's country music is a little different than the songs of the past. However country music is definitely an American genre.
Country Music of Your Life: For the Good Times is a new box set from Time-Life, containing hits from the past, which listeners will remember. With music from Dolly Parton, Waylon Jennings, Tammy Wynette, Kris Kristofferson, Loretta Lynne, Glen Campbell, George Jones, Patsy Cline, Johnny Cash, Eddy Arnold, Crystal Gayle, and other great country artists, there are all kinds of songs, from ballads, to many tunes, which cross over from country to pop.
Today's country songs are not just filled with fiddle and guitars. But it was that sound that ushered in the genre which has supplied the backdrop for many lives.
Listening to the tracks will stir memories and emotions. We all have our favorites. Personally, I was a big Crystal Gayle fan and owned most of her records –vinyl, of course. "Why Have You Left The One You Left Me For?" and "Don't It Make My Brown Eyes Blue" were continually playing on my record player. And who didn't enjoy a great Dolly Parton song? "I Will Always Love You" will always hold a special place in my heart.
This collection also includes plenty of great songs that are both country and pop. "All I Have To Do Is Dream" from The Everly Brothers, "You Light Up My Life" from Debby Boone, "I Honestly Love You" from Olivia Newton-John, "My Special Angel" from Bobby Helms, "Take Me Home Country Roads" and "I'm Sorry" from John Denver might not be considered country, but they fall in to this genre and are part of the collection.
"Country Music has always been a part of my life," reflected Crystal Gayle, who is hosting the infomercial for the collection. "My sisters, Loretta, Peggy Sue, and I grew up singing Country tunes. These songs are timeless."
If you don't find a bunch of songs you like in this set of 150 tracks, you probably don't like music. Besides the songs that I have known and enjoyed throughout the years, I discovered some songs I had not heard and now enjoy. Country music is not whiney, as many people think. It's heartfelt. It's sweet. It's personal. And it's a far cry from rap. At least there are some great melodies in these songs that you'll be humming all day.
Sure this collection will appeal to fans of the artists and country music in particular, but it will also introduce many other music lovers to some of the great songs from the genre. Just listen and enjoy. There are hours of great listening in the ten discs. Plus a Deluxe Collection with eight more CDs is available.
About the Author
Francine Brokaw has been covering all aspects of the entertainment business for 20 years. She also writes about technology and has been a travel writer for the past 12 years. She has been published in national and international newspapers and magazines as well as internet websites. She has written her own book, Beyond the Red Carpet The World of Entertainment Journalists, from Sourced Media Books.
Follow her on Twitter
Like her on Facebook