Come Fly With Me on DVD
Category:
Blu-ray's and DVD's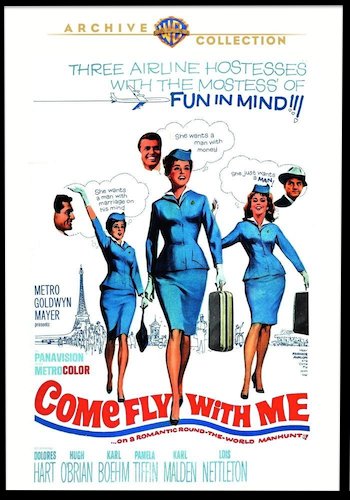 Take three flight attendants, an International schedule, cities filled with romance, and what do you get? A simplistic yet fun romp through Europe as the women search for true love. "Come Fly With Me" is a 1963 film starring Lois Nettleton, Dolores Hart, and Pamela Tiffin as the three "air hostesses" who search for love on the ground while fending off lotharios in the air.
Tiffin plays Carol Brewster, a newbie who is just as innocent in life as she is in her job. Hart is Donna, a woman only interested in finding a rich man. And Nettleton is Bergie, a woman with a sense of purpose and a difficult past when it comes to relationships.
Now add handsome First Officer Winsley (Hugh O'Brian) who has a liberal view of affairs, a Baron (Karl Bohm) who has some secrets, and a wealthy widower named Walter (Karl Malden) to the mix and things get very interesting.
While Walter falls for Bergie, she is not as eager to take on a love interest due to her past failed relationships. But she does fall hard for him. When Donna learns the man who is attentive to her in flight is an actual Baron, she changes her tune and flirts back with the intention of snagging a rich man. Unfortunately, she gets entangled in his web and falls prey to an illegal act. And Carol has it bad for Winsley. He's gorgeous and sweet, and she cannot resist his charm, until she discovers his sexual escapades are numerous.
The movie was filmed on location in Paris and Vienna, which adds authenticity to the storylines. The one thing that viewers will find interesting and remember is the low-key, fun way people interacted in flight. This was before terrorism, before airlines crammed in extra seats, and when people enjoyed flying. Those were the days. If you remember them, then this movie will bring back plenty of memories about the good old days of air travel.
Frankie Avalon sings the title song in this romantic romp through Europe.
"Come Fly With Me" is part of the Warner Archive Collection and is available at their site www.wbshop.com.
About the Author
Francine Brokaw has been covering all aspects of the entertainment business for over 20 years. She also writes about technology and has been a travel writer for the past 15 years. She has been published in national and international newspapers and magazines as well as Internet websites. She has written her own book,  Beyond the Red Carpet The World of Entertainment Journalists, from Sourced Media Books.
Follow her on Twitter
Like her on Facebook