'City Slickers' Collector's Edition Blu-ray
Category:
Blu-ray's and DVD's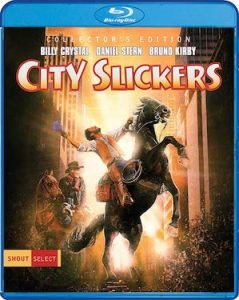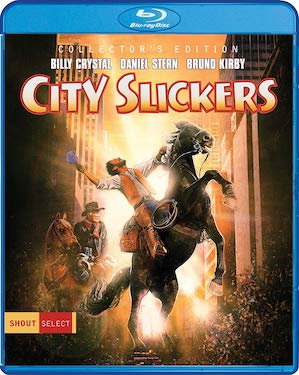 City Slickers is an award-winning 1991 comedy starring Billy Crystal, Bruno Kirby, and Daniel Stern. It's a fun buddy film that is filled with memorable moments.
Crystal is Mitch Robbins, a 39-year-old advertising sales rep who is experiencing a mid-life crisis. He and his two best friends, Phil and Ed (Stern and Kirby), take annual trips together, sometimes with their spouses. After running with the bulls in Pamplona, the trio next decides to go to New Mexico and drive a herd of cattle up to Colorado.
Their introduction to the ranch where they start their journey is nothing short of unpleasant. First, they learn how to ride and rope, and second they meet the leader, Curly (Jack Palance) who is definitely not a man anyone would describe as warm and fuzzy. This gruff cowboy is more than intimidating to the trio as well as the others in the group. He is downright scary.
The cattle drive is hysterical. Along the way they manage to bury one man and two horses and lose two ranch hands. Plus, Mitch gets to birth a calf. He names the little one Norman and Norman turns out to be the star of the film.
Helen Slater is Bonnie, the lone woman on the cattle drive. Also joining the group are Josh Mostel and David Paymer as the Shalowitz brothers who are like Ben and Jerry. They have an ice cream empire. Bill Henderson and Phil Lewis play father and son dentists on this far-fetched journey. Together these very different personalities merge into a hysterical group of city folk who must dig deep inside to find their inner cowboy – or cowgirl.
A very young Jake Gyllenhaal plays Mitch's son and Crystal's daughter Lindsay plays his daughter in the film. Patricia Wettig plays his loving wife who is concerned about his crisis but knows he will snap out of it – eventually.
Two years earlier Crystal and Kirby co-starred in the hit comedy When Harry Met Sally. And many of the City Slickers cast returned three years later for the sequel, which starts on Mitch's 40th birthday.
Jack Palance took home the Oscar and a Golden Globe for his role as Curly. City Slickers was a hit comedy and has stood the test of time. It's not a period piece, and watching it again now is just as entertaining and enjoyable. There are definitely many laugh-out-loud scenes.
The bonus features include a look at the movie with the cast and filmmakers. There is another featurette about writing the script. The whole idea came from Crystal while he was watching a TV show about vacations. There is a fun featurette about Norman. It describes how the birthing scene was filmed. And for those who want to know – Crystal did pull out the calf however it wasn't from its mother. It was from a mock-up of the mother cow. Watch this for all the info. And finally, there are a couple deleted scenes. It's interesting to hear why the director cut an important aspect of the ending of the cattle drive.
If you haven't seen the film or haven't seen it in a long time, this is the time to revisit the fun of the most hilarious cattle drive in Hollywood history. Yee haw!!!!
City Slickers is rated PG-12.
About the Author
Francine Brokaw has been covering all aspects of the entertainment industry for over 25 years. She also writes about products and travel. She has been published in national and international newspapers and magazines as well as Internet websites. She has written her own book, Beyond the Red Carpet The World of Entertainment Journalists, from Sourced Media Books.
Follow her on Twitter