Christopher Plummer is Barrymore on PBS
Category:
Television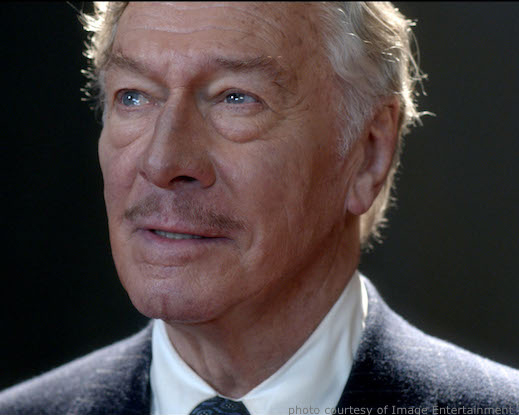 In the new PBS Great Performance show Barrymore, Christopher Plummer re-creates his Tony Award-winning one-man play portraying legendary actor John Barrymore. Plummer is probably remembered by many for his role as Captain Von Trapp in the musical film The Sound of Music, however his career is much more than that one iconic role. Plummer has won two Emmys, two Tonys, and an Oscar.
When people these days hear the name "Barrymore" they probably think of Drew. The Barrymore family is one of the most prolific families of stage and screen. Plummer is amazing in this performance of John – sometimes called Jack – Barrymore and when seeing this film viewers will be immersed in the character and forget they are seeing a performance.
William Luce wrote the original play, but, as Plummer explained to a group of journalists, "we went to work on it because it was just a bunch of gags to begin with, very funny, but there was no depth, or it was rather shallow. So we took it on the road for a long time and worked on it in each town, and William Luce was so flexible and wonderful to work with." After honing the play and getting into the character, Christopher Plummer had an award-winning performance and a highly touted show.
"So we managed to find, finally, some sort of kind of pain behind the eyes of Jack, and, of course, in life [there] was a great deal of pain. So I think we found it. I think it's there, and it was a lovely exercise to develop a part and a play."
Plummer told the Television Critics Association an interesting story. "One day when we were on Broadway, they told me that Elaine Barrymore was out front, and she must have been in her late 80s. She was his last wife, as you probably know. And I thought I was absolutely terrified. So I made my first entrance, and I was determined to sound exactly like Jack. I could do it if I wanted to, but normally, I wouldn't have done a cheap imitation, but that day I had to so that she would know who I was. And then it was okay. I did the show, and afterwards she came backstage with a friend, and all she said was – and it was the nicest compliment I think I've ever got – she said, 'Jack would have loved to have done the town with you.' And that was fine with me. That was just great. I don't think Drew has seen it. I don't know Drew, but I knew Diana very well, his daughter. So I felt I was, in a sense, a sort of part of the family."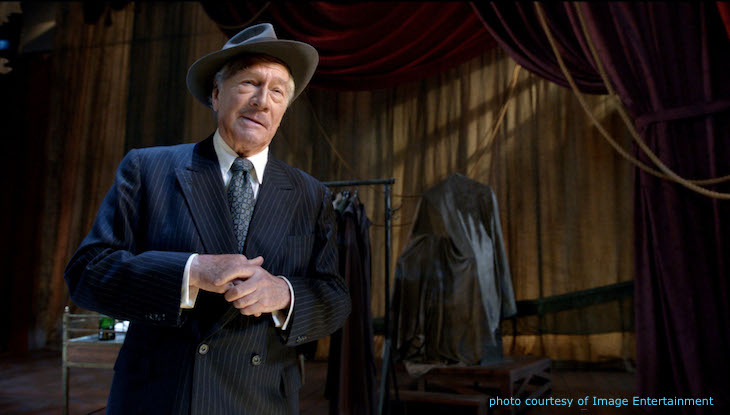 When asked about Barrymore, the man, Plummer was perceptive about his life and career. "I think [his] whole persona is unique. He was one of the great personalities of the early 20th century. There's no question. He was embodiment of naughtiness, glamour, talent, and he had it all except height. He was a very short man. And that great extraordinary profile and his delicious self‑deprecating humor of which he had loads. And so that made him a very attractive figure to me."
Plummer compared John Barrymore to the mythological Greek character Icarus, who ignored warnings and flew too close to the sun and melted. Barrymore burned out himself, not literally, however.
Christopher Plummer is not only an accomplished actor, he is also a witty and highly intelligent man. "I've done so many more parts, great parts than Barrymore ever got a chance to do." When asked about his longevity, he quipped,
"I think it's because we're all living longer than Methuselah. And we are on drugs and everything so that we look so young and vibrant." He also expressed his joy in the fact that more stories are being written with parts for older actors these days.
"I like [performing in] one‑man shows," the actor stated with a smile, "because there's no one else to spoil the party. [But] also they're terribly lonely so that you get your punishment as well. It is lonely up there."
Christopher Plummer is one of today's great actors and when viewers see his performance as Barrymore, they will undoubtedly agree. "I've been terribly lucky," he said when referring to the parts he has played in his career.
Barrymore premiers on PBS Friday, January 31, 2014. It's not for kids due to adult content and language.

About the Author
Francine Brokaw has been covering all aspects of the entertainment business for 20 years. She also writes about technology and has been a travel writer for the past 12 years. She has been published in national and international newspapers and magazines as well as Internet websites. She has written her own book, Beyond the Red Carpet: The World of Entertainment Journalists, from Sourced Media Books.
Follow her on Twitter
Like her on Facebook