Christmas Edition DVDs for Kids
Category:
Blu-ray's and DVD's

If you're looking for some great stocking stuffers or perhaps party gifts or even little gifts for some neighborhood kids on your list this Christmas, there are plenty of fun holiday DVDs that are sure to delight young viewers. Many of them are starting to hit the shelves now so this is a good time to stock up on some extra gifts "just in case" you find yourself in a situation where a gift would be appropriate.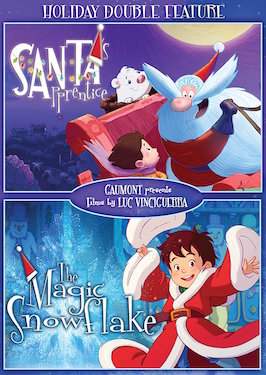 Holiday Double Feature – Santa's Apprentice and The Magic Snowflake
Santa's Apprentice and The Magic Snowflake combine to make a fun double feature. In Santa's Apprentice, Santa is being forced to retire so he looks for someone to replace him. The candidate must ben an orphan with a good heart and be named Nicholas. When he finds the perfect little boy, he must convince him to be his apprentice and ultimately take over the big job. But little Nicholas has a fear of heights, something that doesn't help his job in the flying sleigh. He also lacks self-confidence. But leave it to Santa for a happy ending.
The Magic Snowflake is the sequel with 7-year-old Nicholas. The boy is perfect for the job until he decides he wants to grow up faster after contacting Grown-up-allosis. That doesn't bode well for him and the Council of Retired Santas decides to replace him with one of their own to save the holiday. Nicholas wants his job back and has to regain his carefree, whimsy attitude in order to take control once again.

Care Bears & Cousins Take Heart Volume 1 includes six episodes featuring those adorable Care Bears and their Cousins. We all know the Care Bears, but for those who are not familiar with the "Cousins," they are just as adorable as the bears but they are different animals. There is Brave Heart Lion, Lotsa Heart Elephant, Bright Heart Raccoon, and Cozy Heart Penguin, among others. They bring even more love and caring to the land of Care-a Lot. Let's just say this DVD is filled with "heart-warming" stories for kids. They are designed for ages 3-9 but how can anyone of any age resist these adorable little guys? They're colorful and caring, and yes, inspire viewers.
The DVD box is packaged ready to give as a gift with a bright red bow printed on the box. The disc includes a DVD and Digital so kids can watch these fun little characters on other devices.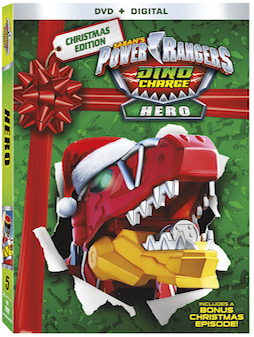 Power Rangers Dino Charge: Hero Christmas Edition is also packaged with a red bow printed on the box. This show is for a little older age group.
The DVD includes four episodes from the TV series as well as a bonus holiday episode "Race to Rescue Christmas." When Santa's computer is stolen the Rangers must retrieve it in order to save Christmas. This episode was highly rated when it aired. Combining Christmas with the Rangers adds a different dimension to the characters and viewers will get in the spirit of the holiday as the Rangers go on a mission from Santa to get back his computer. And that's not all that's happening in this episode. Chase might not make it home for Christmas, which is the only thing his sister Chloe wants this year. Will he make it back in time? Spoiler alert: yes! There is a DVD and Digital in this box.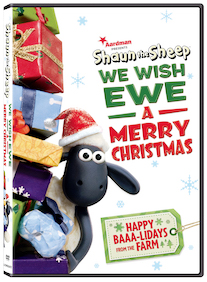 Shaun the Sheep: We Wish Ewe a Merry Christmas is designed for ages 5+. Shaun the Sheep Movie was a hit feature film in 2015 and nominated for an Academy Award. Seven episodes on this disc will brighten up the holidays the gang prepares for the holiday with snowball fights, decorations, and more. Decorating the barn with ribbons, streamers and lights gets everyone into the Christmas spirit.
There are plenty of fun moments for family viewing. These characters are full of wackiness and cuteness.
The DVD includes a "Sheep-Shearing Game" in which kids get to shear the wool off their sheep.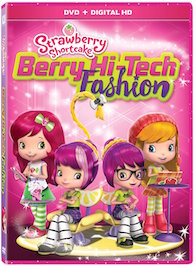 Strawberry Shortcake: Berry Hi-Tech Fashion combines Strawberry and her friends and fashion – two things many young (and old) girls love. Three fun-filled berry adventures will entertain girls over and over again. And included in the box are stickers that will add some extra pizazz to any outfit.
The friends are always good for some cute adventures and helpful guidance. While this is not a "Christmas Edition" it   is a great stocking stuffer. This includes a DVD and Digital HD.
About the Author
Francine Brokaw has been covering all aspects of the entertainment industry for over 20 years. She also writes about products and travel. She has been published in national and international newspapers and magazines as well as Internet websites. She has written her own book, Beyond the Red Carpet The World of Entertainment Journalists, from Sourced Media Books.
Follow her on Twitter