Checking out the upcoming TV season
Category:
Television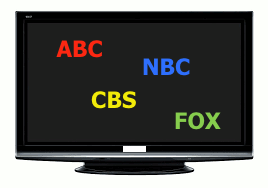 If the upcoming fall television schedule has a familiar ring to it don't be surprised. Banking on proven past ratings winners to attract a hefty percentage of the $6 billion Madison Avenue will be investing in advertising over the next few months, TV broadcast networks are resurrecting "Will & Grace," "Roseanne," "Dynasty," and "The Gong Show." It's not a sure bet, however, despite the heavily hyped return of "Twin Peaks" only a paltry 500,000 viewers tuned in.
At this stage definite trends are already emerging like the presence of more sci-fi and fantasy genres from ABC's "Marvel's Inhumans" to CW's expansion of comic book heroes that already includes "The Flash" and "Supergirl." Making his NBC debut is DC's "Black Lightning," a superhero vigilante turned charter school principal. FOX's contender is "The Gifted," a drama about children with mutant power, and "Ghosted," a comedy where friends investigate unexpected phenomena in Los Angeles.
Another prominent trend was first introduced by NBC with 2013's "The Sound of Music," since then the Peacock Network and Fox have each mounted one musical a season. Joining the pack Fox will add a little holiday cheer with a musical version of the perennial mainstay "A Christmas Story" with Oscar winners for "La La Land" Banj Pasek and Justin Paul penning the music and lyrics. For the first time ABC is jumping with "The Little Mermaid" in October, mixing real-life singing with clips from the animated classic. Looking ahead to next Easter, NBC airs "Jesus Christ Superstar," while Fox plans a live version of the Broadway hit "Rent."
ABC's super producer Shonda Rhimes is pulling the plug on "The Catch" and "Scandal" after the coming season, but she's got two new series waiting in the wings beginning with "Still Star Crossed"which focuses on the aftermath of Romeo and Juliet's suicides. Getting an early jump the series premiered last week. In addition, the network has picked up an untitled "Grey's Anatomy" spinoff relocated in a Seattle firehouse, along with a legal drama titled "For the People."
With barely a 13-month hiatus ABC intends to resurrect "American Idol." In its heyday the show drew 38 million viewers and spawned 375 Number One hits, taking into account natural and domestic charts, according to Billboard. A host has yet to be announced, but relying on star power Katy Perry is its first judge.
Taking into account the longevity and popularity of "Dancing with the Stars," ABC is mounting a spinoff for the spring of 2018. The pint-sized contestants include celebrity kids, and offspring of celebrities paired with professional ballroom dancers.
The following is a roundup of series that will be filling television screens in the coming months.
ABC
During the recent Upfronts held at various venues in New York City, ABC provided a brief preview synopses of eight new series beginning with "The Crossing." Refugees from a war-torn country seek asylum in a small American fishing village. There are two innate problems – first these people are from the United States, and secondly, the war they're fleeting hasn't happened yet. Leading the pack is Steve Zahn.
As "Scandal" embarks on its last season, Shondaland already is prepared to fill the void with "For the People" that premieres this fall. Setting up shop at the United States District Court for the Southern District in Manhattan, the drama tracks newly minted lawyers working for both the defense and the prosecution on the country's most high profile and challenging federal cases. Found in the ranks are actors Lyndon Smith, Ben Rappaport, and Susannah Flood.
"Bates Motel's" Freddie Highmore assumes a new identity as a young surgeon with Savant syndrome in "The Good Doctor." Recruited by a pediatric surgical unit of a prestigious hospital, his inability to relate to his young patients doesn't prevent him from doing everything within his power to save them.
"The Gospel of Kevin" stars Jason Ritter from "Parenthood," who returns home to give his widowed twin sister (JoAnna Garcia Swisher) and her young daughter a hand. On his first night home a celestial spirit named Yvette appears giving him a mission to save the world.
Aspiring rapper Courtney Rose (Brandon Michael Hall) needs public exposure so he decides to run for mayor of his California hometown in "The Mayor." Designed to booster his music career, Rose surprisingly wins his political bid. With the help of his mother (Yvette Nicole Brown) and his friends, including Valentina (Lea Michele of "Glee" fame) he sets out to transform the city.
"Splitting Up Together" the couple's (Jenna Fischer and Oliver Hudson) marriage is revived by their divorce. The comedy series is based on the Danish series of the same name.
Based on the podcast "StartUp," a name already claimed by Crackle, the comedy follows radio journalist Alex Schuman (Zach Braff) as he throws caution to the win and quits his job to start his own company. The same might be applied to multi-talented Braff, who also directs and serves as executive producer with Matt Tarses from "Scrubs."
CBS
Building on its reputation as the "Most Watched Network" for 14 years running, CBS unveils eight new series beginning with "Young Sheldon." For 9-year-old math genius Sheldon Cooper (played by Lain Armitage) finds it isn't easy growing up in East Texas where church and football reign supreme. Narrated by "The Big Bang Theory's Jim Parson, the series offers the opportunity to meet Sheldon as a child embarking on an innocent, awkward and hopeful journey towards the man he will become. Once again at the helm are creators Chuck Lorre and Steve Molaro.
Military drama series report for service in the form of CW's "Valor," NBC's "For God & Country," along with CBS's own "SEAL Team," starring David Boreanaz as a member of the country's most elite unit of Navy SEALS as they train, and execute the most dangerous, high stakes missions. Storylines balance between the members' personal lives and their unwavering patriotism and fearless dedication.
Inspired by the earlier television series and feature film "SWAT" stars Shemar Moore as a locally born SWAT sergeant assigned to run a specialized tactical unit in Los Angeles. A morally taxing position Moore often finds himself torn between loyalty to the streets where he was raised and allegiance to his brothers in blue.
CBS's "Wisdom of the Crowd" stars Jeremy Piven as a Silcon Valley visionary tech innovator who creates a cutting edge crowd sourcing app to solve his daughter's murder. His success fuels his determination to solve even more cases.
Turning to the comedic side of CBS's roster Mark Feuerstein tears a page from his own history for "9JKL." As a new divorce and actor between projects he moves to a New York City apartment where he's sandwiched between his meddlesome parents (Linda Lavin and Elliott Gould) and his competitive brother, sister-in-law and new baby.
"Me, Myself & I" headlines "SNL" alumni Bobby Moynihan in a comedy that defines moments in one man's life as a 14-year-old, at age 40 in present day, depicted by Moynihan, and at 65 in 2042.
Slated for later in the season are "Instinct" and "By the Book." The first stars Alan Cumming from "The Good Wife" as a former CIA operative who is lured back by the New York Police Department to help apprehend a serial killer. The storyline is based on a James Patterson soon to be released novel.
Facing parenthood Chip Curry (Jay R. Ferguson), a metropolitan film critic, embarks on a spiritual journey after the loss of his best friend in the comedy "By the Book." He harbors some serious doubts about being able to follow every page in the Bible and its resulting effect. If Curry has his doubts he can always consult A.J. Jacobs' bestselling book "The Year of Living Biblically."
FOX
Boasting a full slate of new entries, Anne Heche returns a D.I.A. Deputy Director Patricia Campbell, who with her team of analysts yield the world's most advanced surveillance technology from Washington, D.C. in "The Brave." Their missions take them to some of the world's most dangerous locales to save the lives of innocent people in "The Brave."
Expanding on his "Law & Order" franchise, Dick Wolf presents an eight episode true crime installment of "Law & Order True Crime: The Menendez Murders." The siblings were charged and convicted of brutally killing their parents. The series, starring Emmy and Golden Globe winner Edie Falco, and details what happened when the cameras stopped rolling.
Think "Thelma & Louise" mixed with traces of "Breaking Bad " when three suburban moms in "Good Girls" decide to rob the neighborhood supermarket. There's just one hitch – the manager recognizes one of the bandits.
Mickey Fisher, the creator of "Extant" presents a new thriller "Reverie, starring Sarah Shahi as Mara Kint a former hostage negotiator, who is enlisted to save ordinary people lost in an advanced virtual reality program, who can literally live their dreams.
About the Author
Winnie Bonelli is a former entertainment editor for a daily metropolitan New York City area newspaper. She is passionate about movies and television and loves to take readers behind the scenes.