'Cheat' makes its U.S. debut on Sundance Now
Category:
Television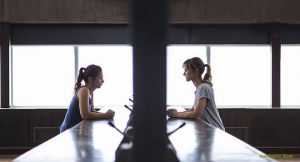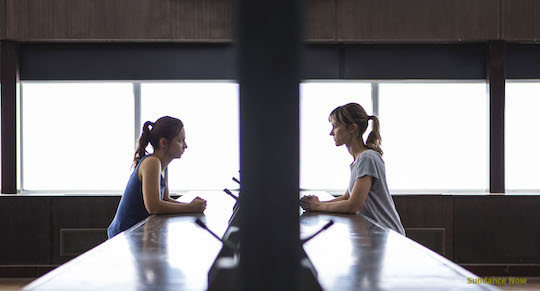 If you've been awaiting for Season 2 of Liar (SundanceTV) since November of 2017, you can certainly fill the void with Cheat, a new British psychological thriller from Harry & Jack Williams. Both Liar and Cheat share the tone, vibe, and actor Katherine Kelly, but there the similarity ends. While Liar, created by the Williams brothers, deals with a 'he said/she said' riddle searching for the truth, the new four-part miniseries Cheat examines a deadly 'tit-for-tat' game played by two fiercely intelligent women trying to outsmart each other.
Dr. Leah Dale (Katherine Kelly), a university lecturer, aspires to get a permanent position. When Rose Vaughn (Molly Windsor), a non-participating average senior, turns in a suspiciously brilliant essay, Leah calls her out. As Rose fails to prove that the essay is truly an expression of her own thinking, Leah stands firm about 'getting things done properly in her section of the world.' Little does she know, that failing Rose would trigger Pandora's box to break open and put Leah's relationships to the test. There is more to Rose than meets the eye.
Gaby Hull created Cheat to "explore our closest relationships and and how they construct and deconstruct our characters in the most fundamental, exciting, and in this case, extreme ways." You will be spoon-fed with bits and pieces of the tangled pairs' background and upbringing and their deep-rooted issues of betrayal, abandonment, and distrust.
You'll no doubt keep wondering who is eventually put behind bars throughout the series. Every time you think you figure things out, you'll be challenged with more twists and turns as if they're saying "Not so fast!" This meticulously crafted thriller is sure to keep you on the edge of your seat till the last minute.
I've wasted my precious time watching psychological thrillers that left me hanging and blamed myself for wanting the whys and wherefores. You can be rest assured that the perpetrator's motive and agenda will be made crystal clear; Cheat is quite a satisfying roller coaster ride you won't want to miss.
Cheat premieres Thursday, November 21, 2019 on Sundance Now, AMC Networks' premium streaming service, with a new episode added every Thursday.
About the Author
Meg Mimura is a TV critic who actually watches shows zealously in search of thought-provoking and paradigm shifting human drama worth our precious time. She is a member of Television Critics Association. Follow her on Twitter.