'Charlie Brown's All Stars!' 50th Anniversary Deluxe Edition DVD
Category:
Blu-ray's and DVD's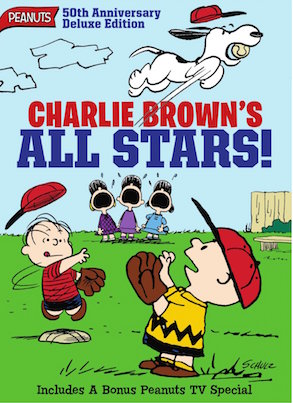 Join Charlie Brown and the whole Peanuts gang for two fun shows with all the laughs and love associated with these little kids. This DVD includes both the TV special "Charlie Brown's All Stars," remastered in high definition, and "A Charlie Brown Celebration."
In "Charlie Brown's All Stars," the gang is frustrated that their baseball team never wins a game. As manager and pitcher, Charlie Brown feels the grief of his players and then faces a mutiny when they all quit the team. They would rather spend their summer doing something other than losing!
Then Charlie Brown receives an offer from a local businessman. He will sponsor the team and supply uniforms for all the players. This is enough to get all the gang back on the field. With the promise of uniforms, they feel they might have a chance to possibly win some games. But when he is informed in order to play in the league he has to fire Snoopy and all the girls, Charlie Brown decides to decline the offer of sponsorship and uniforms.
When the team hears that good ol' Charlie Brown turned down the uniforms, they once again quit the team. Then Linus tells them that Charlie Brown was only thinking about them. He didn't want to split up his team. The whole gang gets together to show Charlie Brown they understand and do care about him, and make him his own uniform…out of Linus' blanket!
"A Charlie Brown Celebration" is a 1982 film introduced by Charles Schultz. It is a compilation of little vignettes bringing all the gang together in different stories, most of which revolve around school.
The Peanuts kids have been part of our lives for well over 50 years. They have entertained readers and viewers with their antics and some wackiness. They make us laugh, sniffle, and always smile. Charlie Brown, Lucy, Linus, Schroeder, Sally, Peppermint Patty, Snoopy, Pig Pen, Franklin, Violet, Frieda, and the whole group are part of our history and will always remain part of pop culture.
This DVD is not rated however it is a great disc to share with the entire family. Grab some popcorn and watch Good Ol' Charlie Brown and the Peanuts gang get through life's little problems with wit, fun, and friendship.
About the Author
Francine Brokaw has been covering all aspects of the entertainment industry for 20 years. She also writes about products and travel. She has been published in national and international newspapers and magazines as well as Internet websites. She has written her own book, Beyond the Red Carpet The World of Entertainment Journalists, from Sourced Media Books.
Follow her on Twitter