'Chappaquiddick' - Movie Review
Category:
Movies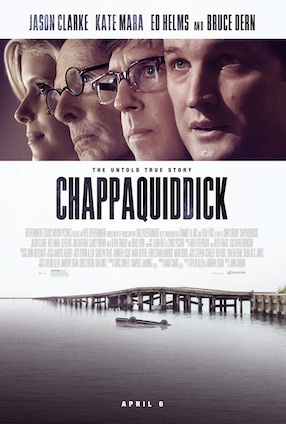 Chappaquiddick is a dramatization of the most critical week in the life of Ted Kennedy. If you were not born yet or were too young to remember the summer of 1969, you might have heard about the Chappaquiddick event from others. That summer marked the end of presidential hopes – if he had them – for Senator Edward Kennedy. It was also the time when NASA fulfilled President Kennedy's challenge to put a man on the moon and bring him safely back to earth. Both events occurred simultaneously, which is an interesting dichotomy for the Kennedy family.
The filmmakers acknowledge this is not a biopic. No one knows for sure what happened from the time Kennedy and Mary Jo Kopechne left the party and the time Kennedy left his car with Kopechne submerged in the water. This is a character study of the man who was thrust to the head of the famous family just a year earlier when his brother Robert was killed while campaigning for the presidency. That was the reason for the gathering in Chappaquiddick. It was a reunion of RFK's workers, and Mary Jo was a crucial part of the RFK staff.
Screenwriter Taylor Allen stated, "Once you start looking into who Ted was, all roads lead to Chappaquiddick. There's a younger audience that will really have their eyes opened. For me, Ted is definitely the most relatable of the Kennedy family, and in his youth, he was the black sheep of the sons. The press covering him in the 1940s and '50s referred to him he as the 'overweight' Kennedy. He was expelled from Harvard for cheating on a Spanish exam, which created a rift with his father. Moments like these humanize him. That's why he struggled so much to do the right thing in this situation."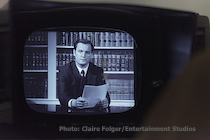 Jason Clarke plays Kennedy with an interesting flair, and he resembles him in his profile. "The strength of the film lies in watching this man's moral choice, and how he came about to decide to do what he did and how he, whether you want to say got away with it or how he lived with it or how the world accepted it or processed it, is what's interesting."
After Kennedy and Kopechne left the party his car went off a bridge into a pond where he left the scene, leaving Kopechne inside the overturned vehicle submerged in the water. We know that had he reported the accident immediately, Kopechne would probably have been saved. But for reasons known only to him, he did not do that. As a matter of fact, he did not report it to the authorities until the following day. This lapse in judgment was something that shadowed his entire career going forward. It was always a note of contention for his enemies and even his supporters.
After making his statement to the police, Kennedy returned to the safety of his family's compound in Hyannis Port where President Kennedy's advisors gathered to help put a good spin on the situation. But things spiraled out of control for Kennedy, whose story changed as the time passed. It became a comedy of errors, and as one of JFK's people said, "The Bay of Pigs was a better run operation." Yes, there are some pretty funny lines in this film, although the situation was critical.
Last year REELZ channel aired a show with Matthew Perry portraying Ted Kennedy. That portrayal of a manipulative man wallowing in self-pity and frustrated with his lot in life is also reflected in Jason Clarke's portrayal. This film shows the inner conflict of the man who wanted desperately to make his family proud but always walked in the shadow of his three brothers who were killed. How does someone contend with a situation like that? For Kennedy, he immersed himself in wine, women, and song, so to speak. He lived the playboy life, although married with three children. In 1980 he finally ran for president, only to give a lackluster performance on the campaign trail and ultimately lose the race.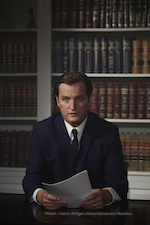 Chappaquiddick is an interesting dramatization of the events of one week in 1969. It will displease die-hard Kennedy followers, but shines a light on the man and his inner demons. No one can be certain exactly what happened that night, but many speculations have surrounded the incident.
The film not only shows the turmoil bubbling within Ted Kennedy, but also how politicians work to craft a situation to their benefit. Watching the JFK men scramble to help direct the situation is like being a fly on the wall inside the Oval office. It's an interesting dramatization of how politics works.
Ed Helms plays Joe Gargan, Ted's cousin and general guy who helped him out of jams. Jim Gaffigan plays Paul Markham, a Kennedy friend and U.S. Attorney for Massachusetts. Clancy Brown is Robert McNamara, Taylor Nichols is Ted Sorensen, Bruce Dern is Joe Kennedy, and Kate Mara is Mary Jo Kopechne.
Chappaquiddick is rated PG-13 for thematic material, disturbing images, some strong language, and historical smoking. It opens in theaters April 6, 2018.
About the Author
Francine Brokaw has been covering all aspects of the entertainment industry for over 20 years. She also writes about products and travel. She has been published in national and international newspapers and magazines as well as Internet websites. She has written her own book, Beyond the Red Carpet The World of Entertainment Journalists, from Sourced Media Books.
Follow her on Twitter