Chances Are - 25th Anniversary Edition Blu-ray
Category:
Blu-ray's and DVD's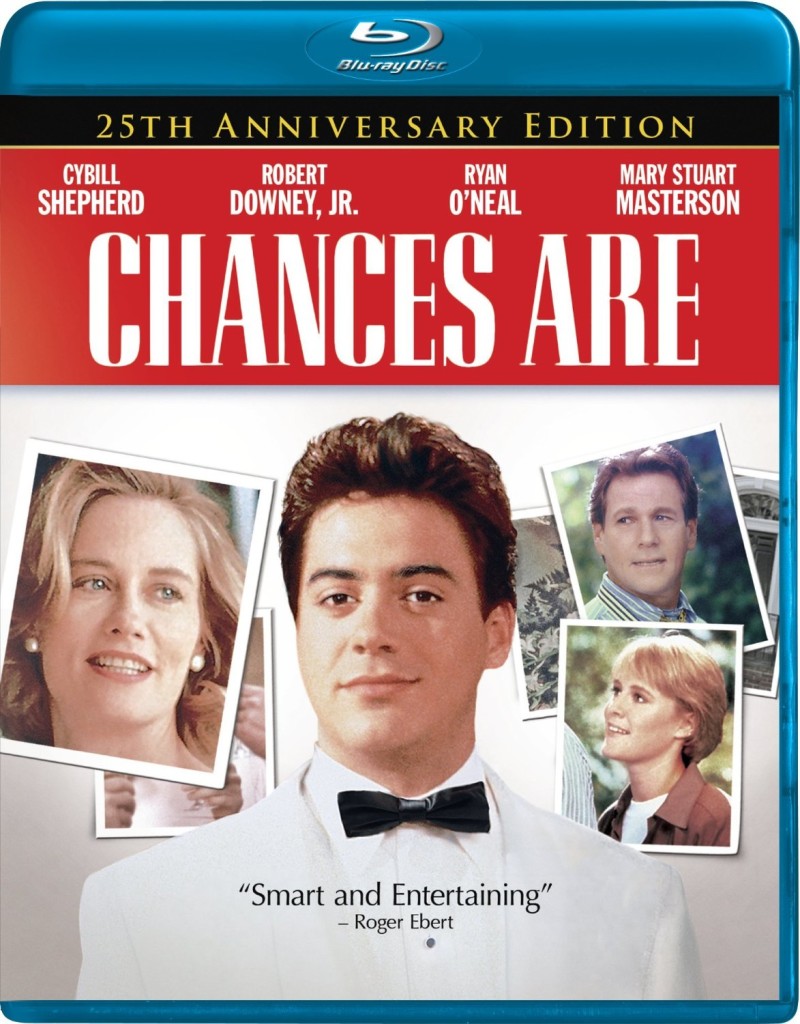 Sometimes little charming movies come along that stand the test of time…literally. That's the case with Chances Are, an entertaining film about love, loss, and second chances.
Cybill Shepherd, Robert Downey, Jr., Ryan O'Neal, and Mary Stuart Masterson star in this delightful 1989 movie. Corinne (Shepherd) is happily married to Louie (Christopher McDonald). They are completely and totally in love and devoted to each other. Then, on their first anniversary Louie is killed, leaving Corinne pregnant and alone. Well, she's not completely alone. Their best friend Phillip (O'Neal) is there for her. Phillip has always loved Corinne.
Upon his death Louie finds himself in heaven and anxious to return to Corinne and his unborn child. He discovers the only way to return to earth is to be reborn.
Flash forward twenty something years and Corinne's daughter Miranda (Masterson) is a law student. Alex (Downey) has just graduated from Yale and is trying to get a job at the Washington Post, where Phillip works. Phillip meets Alex by accident. This young man endears himself to Phillip who takes pity on the poor college graduate. He brings him to Corinne's for dinner. It's there where the characters get a bit mixed up.
Alex discovers he was Louie in a past life. He has feelings for Miranda, but knowing she is – or was – his daughter complicates things. And he also wants to re-ignite his relationship with Corinne. How exactly is he going to get her to recognize that he was – is – Louie? And if she does, how will that work? She's old enough to be his mother!
In the meantime, Miranda and Phillip must try to figure out their own relationships with Alex and Corinne, respectively. The dynamics of this foursome are about to change dramatically.
Ryan O'Neal is utterly charming and loveable in this film. If you didn't fall for him in Love Story, you will in Chances Are.
Chances Are is rated PG.
About the Author
Francine Brokaw has been covering all aspects of the entertainment business for 20 years. She also writes about technology and has been a travel writer for the past 12 years. She has been published in national and international newspapers and magazines as well as internet websites. She has written her own book, Beyond the Red Carpet The World of Entertainment Journalists, from Sourced Media Books.
Follow her on Twitter
Like her on Facebook