Celebrate 'Beauty and the Beast's' 25th Anniversary
Category:
Blu-ray's and DVD's
It's been 25 years since the classic animated film Beauty and the Beast first enchanted viewers. Celebrating the milestone, Disney has released a "25th Anniversary Edition" with a Blu-ray, DVD, and Digital HD. There are several bonus features as well as three versions of the film: original, extended, and sing-along.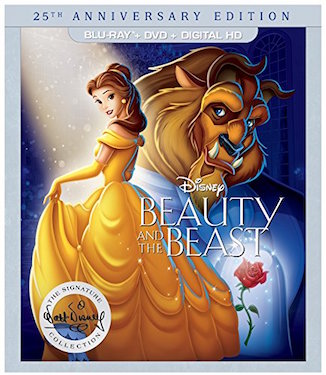 Beauty and the Beast transcends ages. It is beloved by young kids, parents (who grew up with the film), and grandparents alike. Everyone sees something enchanting and entertaining in this movie. Each of the characters has their own fans: Beast, Belle, Gaston, Lumiere, Cogsworth, Wardrobe, Mrs. Potts, and Chip. The music has become part of pop culture. "Be Our Guest," "Beauty and the Beast," "Gaston," "Belle," and "Something There" were beautifully thought out and created by the songwriters Alan Menken and Howard Ashman.
The songs are discussed in one of the bonus features.
In another Paige O'Hara, the voice of Belle, discusses how the movie changed her life. "I was born to play this part," she exclaims. Viewers also get to see snippets from recording sessions which were used for "internal tools for the animators" to help them blend the animated characters to the people voicing them. The story of Beauty and the Beast was "an official idea" for Walt Disney, although it never got made during his lifetime. He always wanted to bring this enchanting story to audiences, though.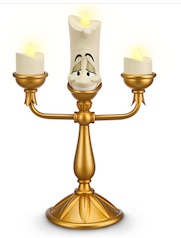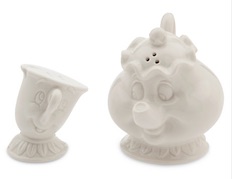 So, on this special anniversary, why not gather your friends for a party to celebrate Belle and the Beast? Set your table with the Lumiere candelabra, the Mrs. Potts and Chip salt and Pepper set, (available from Disneystore.com) and serve a delicious meal – including of course the "gray stuff," then sit down for 85 minutes of pure delight as the movie brings back memories of the first time you saw it. Sing along. Be enchanted once again.
The Beauty and the Beast Live Action movie will premier in theaters next year, but seriously, there's nothing like the original animated version. It's delightful and memorable.
Beauty and the Beast is a classic that will always be entertaining and beloved.
Check out some bonus clips:
About the Author
Francine Brokaw has been covering all aspects of the entertainment industry for 20 years. She also writes about products and travel. She has been published in national and international newspapers and magazines as well as Internet websites. She has written her own book, Beyond the Red Carpet The World of Entertainment Journalists, from Sourced Media Books.
Follow her on Twitter