'Care Bears & Cousins: BFFs– Volume 2' on DVD
Category:
Blu-ray's and DVD's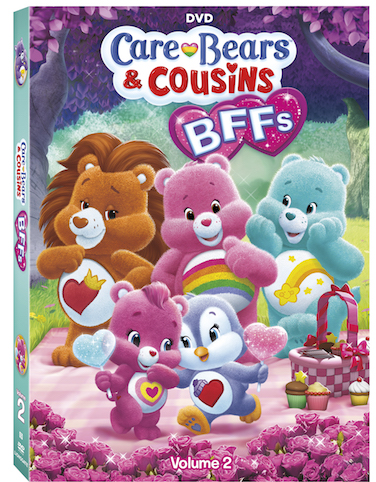 The Care Bears and their cousins are always loveable, colorful, and leave viewers feeling happy with a smile on their faces. This new DVD includes several episodes featuring the delightful little bears and their cousins as they learn lessons about life and friendship.
The land of Care-a-lot is filled with magic and viewers see all the wonders of the land as well as the magic and fun of the characters. In one episode, jealousy rears its ugly head when Share Bear and her BFF Harmony Bear have a little problem and each thinks the other has found a new BFF. But thanks to Cheer Bear, they realize they don't have to have only one BFF.
In another episode Lotsa Heart Elephant has a hard time concentrating on her poem, which she promised to do. After wishing that "tomorrow would never come" so she wouldn't have to recite the poem she forgot to learn, Wish Bear grants her wish. Unfortunately, everyone is stuck in that same day/night until Lotsa realizes she is to blame and understands that keeping a promise is important.
There are some other great lessons to learn in these episodes, each filled with all the fun characters we have all come to love and cherish. Whether it's Cozy Heart Penguin (my favorite), Brave Heart Lion, or any of the delightful bears and cousins, these episodes will delight kids as they watch and learn about live and caring.
Six episodes from the Netflix series are included in this DVD.
Check out this list of characters from Care-a-lot:
Tenderheart Bear
Cheer Bear
Grumpy Bear
Share Bear
Harmony Bear
Funshine Bear
Wonderheart Bear
Care Bear Cousins
Brave Heart Lion
Lotsa Heart Elephant
Bright Heart Raccoon
Cozy Heart Penguin
Good Luck Bear
Thanks-a-Lot Bear
Love-a-Lot Bear
Secret Bear
Surprise Bear
Wish Bear
King Beastly
And there are some great apps available to download to continue the fun of the characters.
About the Author
Francine Brokaw has been covering all aspects of the entertainment industry for over 20 years. She also writes about products and travel. She has been published in national and international newspapers and magazines as well as Internet websites. She has written her own book, Beyond the Red Carpet The World of Entertainment Journalists, from Sourced Media Books.
Follow her on Twitter