'Buttons: A Christmas Tale'
Category:
Blu-ray's and DVD's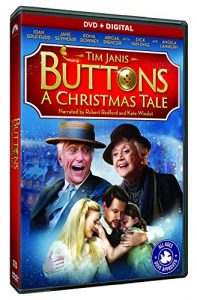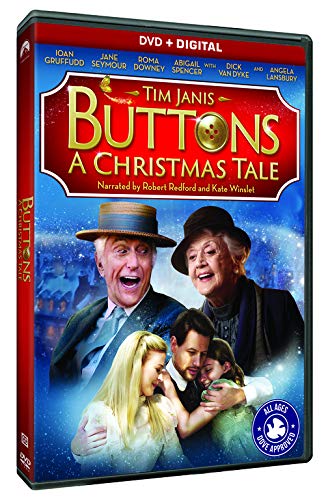 Robert Redford and Kate Winslet both narrate Buttons: A Christmas Tale, a film filled with sweetness, love, and heart.  This 2018 holiday movie is destined to be an annual seasonal film for families.
Angela Lansbury and Dick Van Dyke are guardian angels. We all have a guardian angel from the moment we are born, and both Annabelle (Alivia Clark) and Emily (Noelle E. Parker) find out about their guardian angels when they need them the most. Both girls are orphaned at different times, but through tough times, they both come through their days of strife and end up living happy lives.
Annabelle has a loving family. But when her father dies then not long after that her mother succumbs, the little girl is left alone. She is a sweet young girl but her life is turned upside down and she finds herself in the worst of circumstances. But thanks to her guardian angel (Van Dyke), Annabelle's life takes another turn and once again she is happy and caring and loves living. Life has a way of making things good, with the help of a guardian angel and only for those with goodness in their hearts.
Emily is an orphan who finds herself in the hospital with no one to care for her. Then Rose (Lansbury) enters her life and reads her a story of one little girl who had a great life with a loving family. In the story the little girl was orphaned but her guardian angel was looking out for her and the girl was adopted by a loving and generous family. Emily hopes that will happen to her but her hopes are dashed, until a couple comes to the hospital looking for her.
The two stories intertwine. Throughout the film are fun musical numbers and the DVD contains a bonus with three musical numbers that will touch viewers' hearts, as will this endearing tale. If this film were made in the 1940s it would certainly have been a Shirley Temple film. It is reminiscent of the heartwarming stories that Temple brought to the screen.
Buttons: A Christmas Tale is a delightful story for the season and sure to brighten up everyone's holiday. Families can gather around the TV with some hot chocolate and gingerbread cookies and enjoy this movie together. It will leave viewers with a smile and a happy heart.
Buttons: A Christmas Tale is rated PG for thematic elements. Although it is sad at times, the outcome is definitely uplifting and heartening. And watching Van Dyke and Lansbury is always a delight.
About the Author
Francine Brokaw has been covering all aspects of the entertainment industry for over 25 years. She also writes about products and travel. She has been published in national and international newspapers and magazines as well as Internet websites. She has written her own book, Beyond the Red Carpet The World of Entertainment Journalists, from Sourced Media Books, is the entertainment correspondent for Good Day Orange County, and has her own TV show, Beyond the Red Carpet, on Village Television in Orange County. Follow her on Twitter.