'Brooklyn' on Blu-ray or DVD
Category:
Blu-ray's and DVD's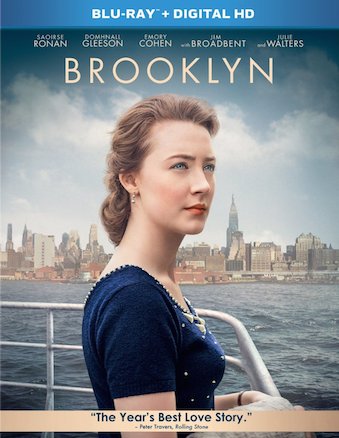 Brooklyn was nominated for three Academy Awards – Best Performance by an Actress in a Leading Role, Best Adapted Screenplay, and Best Picture – and deservedly so. This is a touching story that takes viewers back to the 1950s and follows one woman who must decide the course of her life. Saoirse Ronan is brilliant in the lead role of Eilis Lacey.
Eilis is floundering in her hometown in Ireland. She doesn't see a future for herself. Eilis lives with her mother and sister Rose. Rose has looked after her younger sis for a long time and makes arrangements for Eilis to go to America to start anew. Perhaps there she will find her way in life.
Eilis begins her life in America as a shy yet agreeable young woman. Life in Brooklyn is different than it was in Ireland, but Eilis gets along. That's not to say she doesn't get homesick. On the contrary. She does get homesick and feels quite lonely. Then she meets a young man at an Irish dance. They hit it off instantly. Tony (Emory Cohen), however, is not Irish. He is Italian.
The more time they spend together the more they fall in love. Eilis is now happy. She loves her new country, her class at the local college, her boyfriend, and her life. Then tragedy strikes and she must return to Ireland. But for how long?
Back in her hometown Eilis discovers things have changed and she feels comfortable there, even to the point of taking on a job and a boyfriend, at least for the present time. In the back of her mind she says she is going to return to Brooklyn, but will the pull of her heritage be enough to keep her in Ireland or will her new life win out?
Eilis becomes conflicted between the two men in her life and the two countries. Where does she belong and with whom? Her ultimate choice is the love of her life. It is where her heart and soul belong.
This film has been praised as a great love story, however it is more than that. It is a story of not only finding love, but also finding one's way in this great big world. Eilis blossoms in Brooklyn and comes out of her shell. She becomes the woman she was meant to be. America turns out to be her salvation in life. However Ireland and her family are always part of her life. Her final choice reflects the true nature of this young woman.
Bonus features on the Blu-ray include several deleted or extended scenes. Six featurettes give viewers more background into the story and the making of the film. The movie was based on a book and the filmmakers describe how the book played an important part in the film and how the cast was selected. The bonus features on the Brooklyn DVD include the featurettes and no extended or deleted scenes.
Brooklyn is a wonderful and heartening story, perfect for viewing on a rainy spring day (or anytime a touching, satisfying film is desired). It is rated PG-13 for a scene of sexuality and brief strong language.
About the Author
Francine Brokaw has been covering all aspects of the entertainment industry for 20 years. She also writes about products and travel. She has been published in national and international newspapers and magazines as well as Internet websites. She has written her own book, Beyond the Red Carpet The World of Entertainment Journalists, from Sourced Media Books.
Follow her on Twitter