Bring home 'Turning Red'
Category:
Blu-ray's and DVD's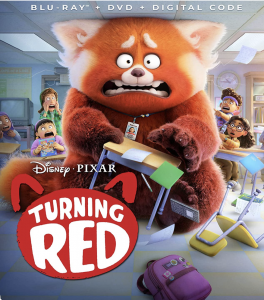 Turning Red is the fun story of Mei. Mei lives in Toronto with her mother Ming and father. She is an overachiever, excited about life, and if her mother has anything to say about it, Mei will be a future UN Secretary General.
Then something strange happens to Mei. One night she turns into a giant red panda. Upon learning that the women in her family turn into pandas when they reach adolescence, Mei is horrified. But there is a solution. When the next red moon rises, the family will perform a ritual to vanquish the panda from her life so she can return to her old self. In the meantime, however, Mei is stuck morphing into the panda when she gets too excited, which is quite often.
While Mei tries to keep her panda in check, she and her friends figure out that using the red panda will help them earn enough money to attend the upcoming concert of the boy band 4 Town. They are at the age when their bodies are not only changing (Mei more than the others) but also their emotions. They are, simply put, boy crazy, and this concert is a "must see" for them
But Mei is torn between the concert and her ritual. She is also becoming attached emotionally to her inner panda. What is a girl to do? Well, that is the question Mei must figure out for herself. After all, she is growing up and even though she loves her family, she knows she has to start taking charge of her own life.
The bonus features are interesting. There is a featurette about creating the scene where Mei first transitions into the panda. Viewers learn how making one scene in an animated film is intense and challenging.
Another bonus looks at several deleted scenes. Personally, I wish they had retained the scene in which Mei and her mom go to the photography studio to have their picture taken. Alas, the filmmakers decided it was not necessary to the plot. There are several other deleted scenes, which never made it to the final cut. After watching them (some were finished and some just sketched out) it is obvious that they were not necessary for the story. Another bonus looks at creating the music in the film.
The filmmakers decided to blend a little anime in with the usual Disney/Pixar animation. This style added a little punch to the show.
Mei – both the human and the fluffy panda – has been taken to heart by fans. There are plenty of toys to go along with the show. Whether fans want a plush human Mei or a soft and fluffy panda Mei, they are available along with plenty of other items.
Turning Red is available on Blu-ray, DVD, 4K Ultra, and digital.
About the Author
Francine Brokaw has been covering all aspects of the entertainment industry for over 25 years. She also writes about products and travel. She has been published in national and international newspapers and magazines as well as Internet websites. She has written her own book, Beyond the Red Carpet The World of Entertainment Journalists, is the entertainment correspondent for Good Day Orange County, and has her own TV show, Beyond the Red Carpet, on Village Television in Orange County.  Follow her on Twitter.