Bring home 'The Lion King'
Category:
Blu-ray's and DVD's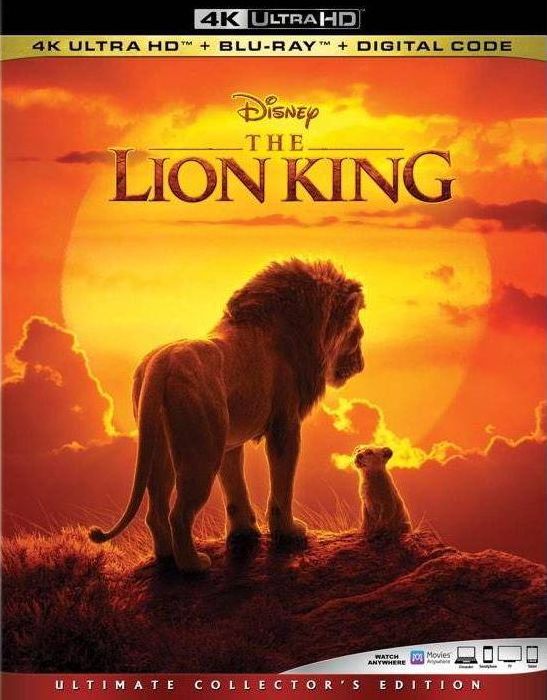 This digital version of the classic 1994 animated film is even more endearing than the original. The Lion King is a heartwarming story of life, love, and family as young Simba learns what it truly takes to be king of the Pride Lands.
When his father Mufasa is killed, the little lion cub runs away because he is ashamed because his evil uncle Scar tells him he is responsible for his father's death. Simba meets Pumbaa and Timon and the three of them become best friends. Then a grown up Simba is reunited with his old friend Nala and their relationship is rekindled. She tells him Scar has ruined the Pride Lands so now it is up to Simba, Nala, Timon, and Pumbaa to take back what was stolen from the animals and return the land to its former glory.
There are plenty of bonus features on the 4K/Blu-ray combo pack that take viewers behind the scenes of the creation of this wonderful film. Everyone knows the great songs that came out of the movie, and they are back in this digital version along with a brand new song, "Never Too Late," which was written by Elton John and Tim Rice specifically for this movie. Hans Zimmer returned to oversee the music in this new film.
Jon Favreau directed the film, which is more like a live action movie than an animated movie. He discusses the casting of this film. It was a coup to get James Earl Jones to reprise his role as the voice of Mufasa.
There is an interesting bonus looking at the evolution of several scenes from storyboard to animation to the final version. It is amazing to see how far digital animation has come.
And instead of having the actors simply record their lines in a booth, a special stage was created so they could act out their parts while saying their lines. This gave them more authenticity than being in a small room with a microphone.
A final bonus shows how the Disney studio joined with the Lion Recovery Fund to help the protection and preservation of the lion population. Long live these wonderful animals!
The Lion King is filled with pop culture elements that have embedded themselves into our lexicon and our lives. "The circle of life" is a phrase that we hear over and over, and also "Hakuna Matata" is another phrase that has become part of our vocabulary.
First as an animated film then a Broadway play and now a digital movie, The Lion King has touched the hearts of people around the world. This movie is beautifully filmed and adds a new dimension to the story without the animation we are all used to when it comes to viewing Simba. This story comes to the screen in a visually stunning way. And although the original had many comical elements, this newer version is filled with many more laugh-out-loud moments.
The Lion King is available on Blu-ray/DVD and in a 4K Ultra HD/Blu-ray combo pack. Both come with a digital code.
About the Author
Francine Brokaw has been covering all aspects of the entertainment industry for over 25 years. She also writes about products and travel. She has been published in national and international newspapers and magazines as well as Internet websites. She has written her own book, Beyond the Red Carpet The World of Entertainment Journalists, from Sourced Media Books, is the entertainment correspondent for Good Day Orange County, and has her own TV show, Beyond the Red Carpet, on Village Television in Orange County. Follow her on Twitter.