Bring Home 'The Jungle Book' on Combo Pack
Category:
Blu-ray's and DVD's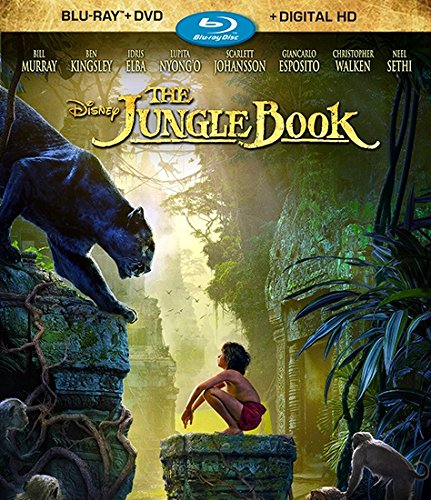 Neel Sethi stars as Mowgli, the little boy who was raised by wolves. In this partial live action movie, Disney has combined parts of the original Rudyard Kipling stories with aspects of their 1967 animated film. The Jungle Book is beautifully filmed and completely enjoyable.
Mowgli was discovered when he was a toddler. Bagherra (Ben Kingsley) found him wandering around alone and took him to be raised by the wolves.
When the tiger Shere Khan (voiced by Idis Elba) announces he wants the man cub, Mowgli's life is in danger. Shere Khan says he will kill animals until he gets the man cub. He wants Mowgli dead because Mowgli's father had burned him badly with "the red flower" before he died. The red flower is fire, which is associated only with man.
With his wolf family in danger, Mowgli leaves the pack and heads toward the man village. Along the way he meets Baloo (Bill Murray) and yes, they do sing "The Bare Necessities." He also encounters King Louie (Christopher Walken), Kaa (Scarlett Johansson), and all the familiar characters we have come to love from the story.
The film is visually stunning. It's gorgeous and it's amazing to see how seamlessly the flesh and blood character meshes with the digitized characters and the scenery. This is truly a feast for your eyes and the story is one that has entertained generations of readers and viewers. It is touching and fun at the same time.
Bonus features on this combo pack include a look at how this film was created. Director Jon Favreau discusses the elements that went into this project, which, at first, seemed overwhelming to him. But the filmmakers worked together and created this magical and mystical movie.
There is a feature about casting Sethi, and another feature showing how the different layers of drawings, animation, and music combine to create one scene – in this case the King Louie scene and the song "I Wanna Be Like You."
Disney's The Jungle Book is rated PG for some sequences of scary action and peril. It is a bit darker than the 1967 animated movie but the visuals are amazing.
Check out some behind the scenes action:
About the Author
Francine Brokaw has been covering all aspects of the entertainment industry for 20 years. She also writes about products and travel. She has been published in national and international newspapers and magazines as well as Internet websites. She has written her own book, Beyond the Red Carpet The World of Entertainment Journalists, from Sourced Media Books.
Follow her on Twitter