Bring home the classic musical 'Flower Drum Song'
Category:
Blu-ray's and DVD's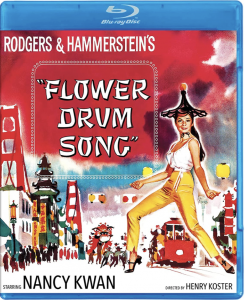 Flower Drum Song is a beloved musical from Rogers and Hammerstein, who also brought us Carousel, South Pacific, Oklahoma, The Sound of Music, The King and I, Cinderella (for TV), and more. From C.Y. Lee's novel "The Flower Drum Song," the story was initially adapted for Broadway then for film. It was reprised recently for an updated version.
The film is set in San Francisco's Chinatown and revolves around a wealthy family struggling with the traditions of old China and modern America in the late 1950's and early 1960's. When his picture bride Mei Li and her father (Miyoshi Umeki and Kam Tong) arrive illegally from China, Sammy Fong (Jack Soo) is in a bind. He is in love with Linda Low (Nancy Kwan) and must find a solution for the dilemma.
Sammy turns to the wealthy traditional Chinese family headed by Wang Chi-Yang (Benson Fong) who wants his oldest son Wang Ta (James Shigeta) to marry a woman from the old country. The father takes the advice of his sister-in-law Madame Liang (Juanita Hall) to let the two fall in love naturally, so Mei Li and her father move into their house hoping that love will conquer all.
As the characters struggle with American life butting against Chinese culture, there are some funny scenes as well as memorable songs by legendary composers Rogers and Hammerstein: "Don't Marry Me," "Chop Suey," "Grant Avenue," "I Enjoy Being a Girl," "Love Look Away," "You Are Beautiful, "A Hundred Million Miracles," and more.
The new Blu-ray from Kino Lorber includes some excellent bonus features. The first looks at how C.Y. Lee's novel came to be and how it was adapted for the stage then ultimately for the screen. Interviews with Lee, Hammerstein, and others bring this evolution to the viewers. There is another feature looking at the cast of both the Broadway play and then the theatrical film. Many people might not realize Jack Soo was born Jack Suzuki and was offered a part in the Broadway play provided he change his name to reflect the Chinese character, which he immediately agreed to do.  A feature looking at the songs and how they evolved throughout the previews of the play and then the film is informative and interesting. Rogers and Hammerstein were nothing short of brilliant when it came to writing songs.
A bonus looks at the sets and costumes as well as the brief location shoots in San Francisco. And another feature focuses on the evolution of Hollywood's inclusion of Asian actors. Flower Drum Song was the first all-Asian cast. And the final bonus feature looks at the legacy of Rogers and Hammerstein. The bonus features on the Blu-ray are as entertaining and wonderful to watch as the film itself.
East meets West in this enchanting musical. Flower Drum Song is a classic among not only musicals but also films in total. It was nominated for five Academy Awards (cinematography, set decoration, costumes, sound, musical score). The film is not rated however it is suitable for all ages.
About the Author
Francine Brokaw has been covering all aspects of the entertainment industry for over 25 years and has been published in national and international newspapers and magazines as well as Internet websites. She has written her own book, Beyond the Red Carpet The World of Entertainment Journalists, is the entertainment correspondent for Good Day Orange County, and has her own TV show, Beyond the Red Carpet, on Village Television in Orange County. Follow her on Twitter.