Bring home 'Sunday in New York'
Category:
Blu-ray's and DVD's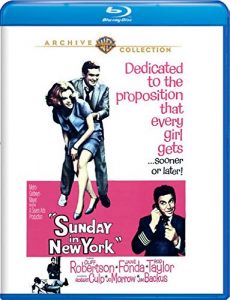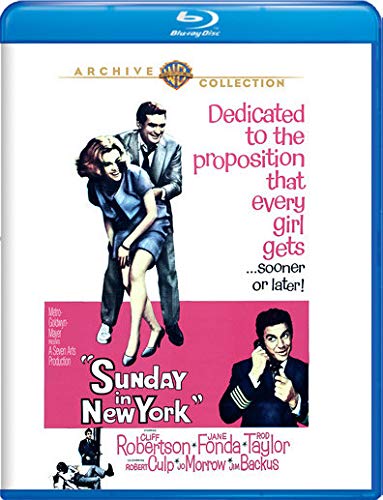 The 1963 romantic comedy Sunday in New York takes place in one day, and it is one very funny and very eventful day. Jane Fonda teamed up with Rod Taylor and Cliff Robertson for this romp around New York City.
Eileen Tyler (Fonda) travels from the north part of New York State to NYC after a breakup with her fiancé Russ Wilson (Robert Culp). She intends on staying a few days with her older brother Adam (Robertson), a pilot who has a robust social life. But when she confides in her brother about how her engagement broke up, he tells her that any man who would break up with a woman because she would not have intimate relations is not worth her time. Little does she know that Adam is playing around when he's not flying planes.
Eileen heads off to take the bus and experience a day in NYC. She gets hooked up, literally, with Mike Mitchell (Taylor) when her pin sticks to his jacket. Later they meet again and decide to spend the day together. He has all day to enjoy the city and why not spend it together?
After awhile they become friends. When they return to the apartment Eileen thinks this is the perfect time to lose her virginity. But Mike isn't having any of that. He is a responsible man and doesn't want to get involved with "a beginner."
Then Russ barges into the apartment and that is when the wackiness continues. To keep things on the up and up, Mike decides it is best if he introduces himself as Eileen's brother Adam. After all, they are both in their bathrobes. So things get really zany when Adam return to the apartment and the three of them must convince Russ that Adam is Mike and Mike is Adam.
There are many laugh-out-loud scenes in this movie.
Sunday in New York is now on Blu-ray from the Warner Archive Collection and can be ordered through their website or online retailers.
About the Author
Francine Brokaw has been covering all aspects of the entertainment industry for over 25 years. She also writes about products and travel. She has been published in national and international newspapers and magazines as well as Internet websites. She has written her own book, Beyond the Red Carpet The World of Entertainment Journalists, from Sourced Media Books, is the entertainment correspondent for Good Day Orange County, and has her own TV show, Beyond the Red Carpet, on Village Television in Orange County. Follow her on Twitter.