Bring home 'Sherlock Gnomes'
Category:
Blu-ray's and DVD's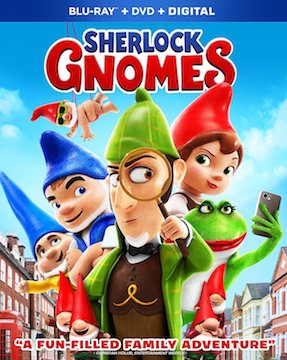 They're back! Those adorable garden gnomes from the 2011 film Gnomeo and Juliet return in a new adventure. Sherlock Gnomes takes the gnomes out of the garden and through the city of London.
Gnomeo and Juliet (James McAvoy and Emily Blunt) and their entire family have moved to a new garden. But this one is a really fixer upper. Nothing looks good. It's really quite dilapidated. The family learns that in the spring, Gnomeo and Juilet will be made the new leaders of the garden. They are now married and the obvious leaders to take over. They set out to beautify this garden and turn it into an amazing place for everyone.
Things are looking up for the gang when all the garden gnomes in the city start disappearing. Thankfully Sherlock Gnomes (Johnny Depp) and Dr. Watson (Chiwetel Ejiofor) are on the case. They discover their old nemesis Moriarty (Jamie Demetriou) is up to his old tricks. He wants to crush all the gnomes.
Once their own family disappears, Juliet and Gnomeo insist on helping get their family back, but when they split up, Juliet going with Sherlock and Gnomeo going with Watson, things get tricky. Gnomeo becomes another captive. While he and his friends and family are working on the inside, Juliet and Sherlock are hunting them down from the outside.
This caper takes them all over London. It's filled with plenty of great music and some fun antics as well as cute and clever dialogue and situations.
There are plenty of bonus features. A behind the scenes feature looks at the voice actors as they discuss their characters and the story. Another feature looks at how this show brings in many aspect and landmarks of London, including Tower Bridge, Natural History Museum, and the Doll Museum. There is a look at the music and a music video with Mary J. Blige who joins the cast for this rollicking adventure. Viewers get lessons in how to draw several of the characters including Sherlock and Watson. And there is an interesting look at the entire animation process from start to finish.
Sherlock Gnomes is a fun adventure and a cute sequel to the original film. Once you see this, you won't pass a garden gnome again without thinking of these characters.
The film is rated PG for some rude and suggestive humor. It's available on a Blu-ray Combo Pack as well as a single DVD.
About the Author
Francine Brokaw has been covering all aspects of the entertainment industry for over 20 years. She also writes about products and travel. She has been published in national and international newspapers and magazines as well as Internet websites. She has written her own book, Beyond the Red Carpet The World of Entertainment Journalists, from Sourced Media Books.
Follow her on Twitter