Bring home (quack) 'DuckTales Destination: Adventure!' on DVD
Category:
Blu-ray's and DVD's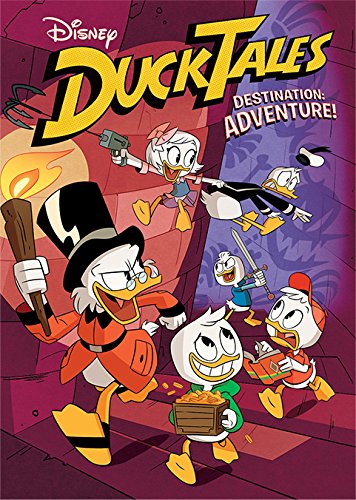 All the quacky characters from the popular animated series DuckTales combine in this new DVD. DuckTales Destination: Adventure! includes six episodes as well as two bonus classic episodes. Huey, Dewey, Louie, Webbigail, and Scrooge and the gang find themselves in plenty of hot water in these adventurous episodes.
Whether it's Webby looking for a girl friend to be buddies with and have the same connection as the three boys, or the whole gang getting mixed up with mummies, there are plenty of whacky and quacky things in store for these adventurous characters. They love exploring the world, although Duckburg is their home. But who can't resist the lure of traveling and discovering other places? Certainly not this gang.
The episodes in this disc are: "The Beagle Birthday Massacre!," "The Living Mummies of Toth-Ra!," "The Impossible Summit of Mt. Neverest!," "The Spear of Selene!," "The Missing Links of Moonshire!," and "Beware the B.U.D.D.Y. System!" The two classic bonus episodes are "New Gizmo-Kids on the Block" and "Ducky Mountain High."
Whether you like the classic series or the new one, there is something here for fans of the duck family. With Webby adding a lot of excitement to the gang, and Scrooge McDuck leading explorations (without spending a lot of money), the three boys, and the rest of the characters, this is a fun disc filled with plenty of adventure and spirit, not to mention the escapades and often-dangerous antics of the young ones.
The original DuckTales TV series premiered in 1987 and ran until 1990. The characters have been beloved by generations so the new TV series was created in 2017 and is still going strong, giving youngsters a new look at the gang.
These fine-feathered friends and family provide plenty of fun viewing for your own family. With plenty of chuckles, a lot of exploits, and some adorable and loveable young ducklings, the DVD is filled with fun.
DuckTales Destination: Adventure! is rated TV-Y7.
About the Author
Francine Brokaw has been covering all aspects of the entertainment industry for over 20 years. She also writes about products and travel. She has been published in national and international newspapers and magazines as well as Internet websites. She has written her own book, Beyond the Red Carpet The World of Entertainment Journalists, from Sourced Media Books.
Follow her on Twitter