Bring home 'Norm of the North: Family Vacation' on DVD
Category:
Blu-ray's and DVD's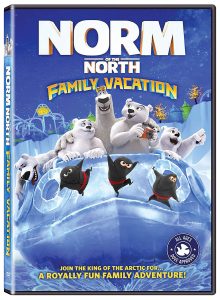 The latest film in the Norm of the North franchise is definitely a family story. Norm of the North: Family Vacation has King Norm in a dither trying to find family time while taking care of his royal duties.
Norm is frustrated. He loves his role as king but he misses spending quality time with his family. And they miss him. The kids resent his role because he doesn't have time to play with them any more.
While preparing for the winter jubilee in which the king must present his crown to the kingdom, it gets stolen. Who would steal the king's crown? If word got out it would cause chaos in the kingdom. With some help from his new friend Tiny, a killer whale, Norm learns about an ice ship that was in the vicinity at the time of the theft. So, in true Norm fashion, he prepares to go after the ship, which is heading for China.
A misunderstanding has Norm's family thinking they are all going on a family vacation, and Norm doesn't want his kids to be disappointed. So off they go in search of the stolen crown without his family knowing the true reason for the trip.
They discover an amazing city built by an inventive White Tiger who invites the family to be his guest. His twins, Pete and Repete, are in the same boat as Norm's kids. They don't get enough time with their father. While the dads commiserate about how difficult it is to be a father, Norm finds his beloved crown.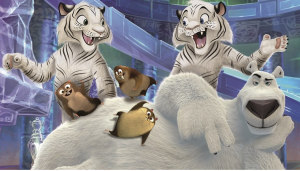 The theme of this family adventure is finding a balance between job and family. While both of the fathers in the story have important roles, they also have kids that need quality family time. In the end everyone realizes the importance of family and togetherness.
Tiny is a fun character as are all the kids and Norm's wife is also an entertaining and optimistic character.  This is the fourth film in the franchise.
Norm of the North: Family Vacation is not rated.
About the Author
Francine Brokaw has been covering all aspects of the entertainment industry for over 25 years. She also writes about products and travel. She has been published in national and international newspapers and magazines as well as Internet websites. She has written her own book, Beyond the Red Carpet The World of Entertainment Journalists, from Sourced Media Books, is the entertainment correspondent for Good Day Orange County, and has her own TV show, Beyond the Red Carpet, on Village Television in Orange County. Follow her on Twitter.