Bring home 'Lightyear'
Category:
Blu-ray's and DVD's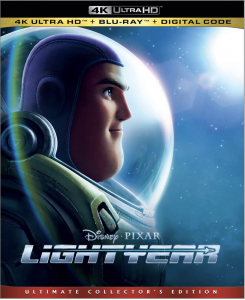 "To infinity and beyond." Buzz Lightyear's iconic phrase has been part of our lexicon for decades. We all know about Buzz, Woody, and all the toys from Toy Story, but there is more. In 1995 a little boy named Andy got a Buzz Lightyear action doll. This doll was from his favorite movie of the year. And Lightyear is that very movie. Lightyear is the movie Andy fell in love with and from which the action doll was created. So, in actuality, the animated character in this movie is not the Buzz we have known for decades. It is the character on which the doll was modeled.
Tim Allen who voiced the Buzz doll all these years is not the voice of the animated movie character in the film. Chris Evans voices this character.
So what is this movie that captured the heart and imagination of little Andy? It's a sci-fi adventure starring space ranger Lightyear. Buzz and his friend and fellow space ranger Hawthorne are on a dangerous mission and soon they and the rest of their crew on their spaceship are marooned on an unforgiving planet. If Buzz can only find a way to get off the planet they can all return home.
The planet is run by ruthless robots and deadly plants. But Buzz' fuel source is something he needs to concoct, and something the robots also need. But why would they need that? (No spoiler here.)
The thing is, whenever Buzz tries out a new fuel concoction and attempts to achieve hyperspeed – which is necessary for them to return home – he takes off from the planet and is away for four minutes. But those four minutes are in his time. In actuality he is gone for years so whenever he returns he has not aged but everyone else has.
So, this is the story of the Buzz Lightyear that Andy enjoyed watching on the big screen. It's a fun sci-fi story that will appeal to youngsters as they learn about being a Space Ranger and especially learn an important lesson about needing help from others. While Buzz was always eager and indeed insistent to do things himself, he finally learned that working with others can be the answer to solving problems.
The robot cat named SOX is a character that will entertain viewers and undoubtedly become a toy asked for by kids this season.
Lightyear is rated PG for action/peril.  It is now available on Digital and Movies Anywhere.  When it hits the shelves on September 13, 2022, there will be plenty of bonus features on the Blu-ray, DVD, and 4K Ultra HD including 7 deleted scenes and three featurettes looking at the Johnson Space Center, the actors, and the toys and models created for the film.
About the Author
Francine Brokaw has been covering all aspects of the entertainment industry for over 25 years. She also writes about products and travel. She has been published in national and international newspapers and magazines as well as Internet websites. She has written her own book, Beyond the Red Carpet The World of Entertainment Journalists, is the entertainment correspondent for Good Day Orange County, and has her own TV show, Beyond the Red Carpet, on Village Television in Orange County. She is a longstanding member of the Television Critics Association and is accredited by the MPAA. Follow her on Twitter.