Bring home 'Downton Abbey: A New Era'
Category:
Blu-ray's and DVD's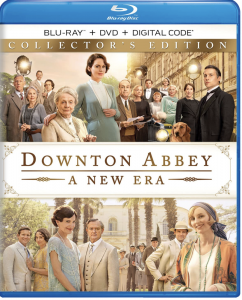 In what could be the ending of the Downton Abbey saga, Downton Abbey: A New Era immerses viewers in the drama, love, and family that has graced the screens since the series began in 2010. The Crawley family and their staff are each on their own paths and together they all bring back the charm of their characters and the stories.
This latest movie in the franchise has two main plots unfolding simultaneously in two different locations. A mystery man has bequeathed his French villa to Violet and most of the family travels to the beautiful French Riviera to get to the bottom of this generous gift and to inspect their new property. Meanwhile a film company is making a movie in Downton with the close supervision of Mary.
While in France, the characters make some rather interesting discoveries about none other than the Dowager Countess herself. Yes, we all have pasts and Violet has one as well. Will this discovery change the dynamics of the family?
And back in England the film has now turned from a silent movie to a talkie. After all, talkies are becoming the new way of movie making. But with shades of Singin' in the Rain, the actress in the starring role does not have the voice talent to go with her "acting." So one of the Crawley's will have to step in for voice-overs in order to keep the production alive. Downton needs a new roof, which costs money, which is why the family is loaning out their domicile.
This movie has it all: love, engagements, death, marriage, new babies, conniving, mystery, secrecy, and some comedy as the characters make their way through this year of changes. As Mary says, 'Marriage is a novel, not a short story."
The Blu-ray disc includes many looks behind the scenes and discussions with the actors who have become a second family to each other. Plus there is a delightful tribute to Maggie Smith, the Dowager Countess of Grantham.
With this possibly being the swan song for the franchise fans definitely need to add this to their video libraries. The show and the characters are now well ensconced in pop culture. With this latest film, they demonstrate how their personal lives are growing and they are becoming more independent, although everyone will always carry Downton in their hearts.
Hugh Bonneville, Elizabeth McGovern, Phyllis Logan, Jim Carter, Brendan Coyle, Michelle Dockery, Allen Leech, Tuppence Middleton, Imelda Staunton, Laura Carmichael, Penelope Wilton and Maggie Smith delight fans of this series in a heartfelt and heartening story that wraps up many storylines for several characters.
Downton Abbey: A New Era is now available on 4K Ultra HD, Blu-ray, DVD, and Digital. It is rated PG for some suggestive references, language, and thematic elements.
About the Author
Francine Brokaw has been covering all aspects of the entertainment industry for over 25 years. She also writes about products and travel. She has been published in national and international newspapers and magazines as well as Internet websites. She has written her own book, Beyond the Red Carpet The World of Entertainment Journalists, is the entertainment correspondent for Good Day Orange County, and has her own TV show, Beyond the Red Carpet, on Village Television in Orange County. Follow her on Twitter.