Bring home 'Damn Yankees'
Category:
Blu-ray's and DVD's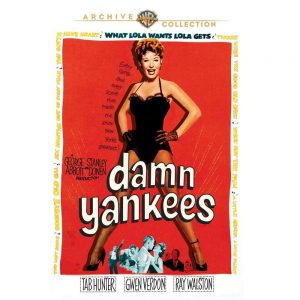 Gwen Verdon, Tab Hunter, and Ray Walston star in the 1958 movie Damn Yankees taken from the Broadway play. Recently FX presented a mini-series, Fosse/Verdon based on the lives of Glen Verdon and Bob Fosse and the scene in which Michelle Williams (as Verdon) performs the song and dance number "Who's Got the Pain" from "Damn Yankees" she knocked it out of the park (no pun intended). Watching Verdon's performance is like a déjà vu from the recent FX series. What a treat.
The story of Joe, an old man who makes a deal with the devil (Walston) to be a young baseball player (Tab Hunter) for the Washington Senators and win the pennant over the New York Yankees, has several songs as well as dances with the choreography by Fosse. These include "Whatever Lola Wants," "You Gotta Have Heart," "A Little Brains – A Little Talent," and "Two Lost Souls."
The devil did something he had never done before. He gave Joe an "out" clause. But he had no intention of letting him go once he got his soul. Thanks to the attention of Lola (Verdon), Joe manages to come out on top and get everything he wanted – success and his old life back.
As young Joe Hardy wins over the fans and the city, his heart still lays with his wife Meg (Shannon Bolin). But thanks to the meddling of the devil himself, Joe is kept at bay from the woman he loves.
The story is lighthearted and fun, even though it does look like a Broadway Play at times. Verdon originated the role of Lola on Broadway and brings her to the screen in this film with all the fun and flavor she can muster. Verdon and Fosse were married after he gave her her big break with this play. They were married until his death even though they did not live together for years. Their partnership bore many delightful plays and films and Damn Yankees is only one of them.
Damn Yankees is a classic among musicals and now the Warner Archive Collection has made it available for fans of the story, the film, the play, Verdon, and Fosse. This DVD can be purchased at their website or online retailers where DVDs and Blu-rays are sold. It is not rated however it is suitable for all ages.
About the Author
Francine Brokaw has been covering all aspects of the entertainment industry for over 25 years. She also writes about products and travel. She has been published in national and international newspapers and magazines as well as Internet websites. She has written her own book, Beyond the Red Carpet The World of Entertainment Journalists, from Sourced Media Books, is the entertainment correspondent for Good Day Orange County, and has her own TV show, Beyond the Red Carpet, on Village Television in Orange County. Follow her on Twitter