Bring home 'Christopher Robin' on Blu-ray Combo Pack
Category:
Blu-ray's and DVD's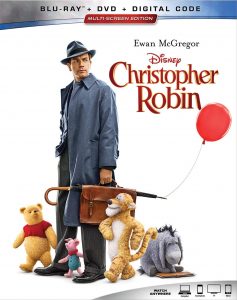 Ewan McGregor is Christopher Robin, having grown up, left the old cottage, and now lives in London with his wife (Hayley Atwell) and daughter (Bronte Carmichael). The thing is, Christopher Robin has lost all the joy in life. He works all the time and neglects his daughter Madeline. His only focus is his job.
When Winnie the Pooh steps through the door in the Hundred Acre Wood, he ends up in London and lo and behold, he immediately comes face to face with his old buddy, Christopher Robin. This can't be true, can it? Robin thinks he has lost his mind. But soon enough he realizes his old friend is there and he must return him to the Hundred Acre Wood.
Once reunited with all his childhood friends, Christopher Robin slowly rediscovers the joy of the little things in life, and the fun that can be had all around.
With the gang back together, Christopher Robin realizes what is most important in his life. His family must come first and thanks to Pooh and the gang, when audiences leave the theaters they will be smiling.
The bonus features on the Blu-ray Combo pack include a look behind the scenes. It sure looks like it was a fun film to make. There is a look at Jim Cummings who has voiced Winnie the Pooh (and Tigger) for more than half his life. Another bonus looks at how Walt Disney first learned about Pooh and the stories from his daughter. He knew they would translate well to film but it took him many years to get to that point. Disney was an admirer of A.A. Milne, the author of the books, and Milne was an admirer of Walt Disney. Their combined intelligence produced several magical and memorable characters we have known and loved. Perhaps one of the most interesting bonus features is how the stuffed animals came to life. They were stuffed animals on set, but also then digitized after the scenes were shot to create the moving and talking characters. It's movie magic and in this case, the animators and the actors worked together seamlessly.
Christopher Robin is a loveable story for the entire family. It's rated PG for some action, and is available in a Blu-ray Combo Pack and a single DVD.
About the Author
Francine Brokaw has been covering all aspects of the entertainment industry for over 25 years. She also writes about products and travel. She has been published in national and international newspapers and magazines as well as Internet websites. She has written her own book, Beyond the Red Carpet The World of Entertainment Journalists, from Sourced Media Books.
Follow her on Twitter