Bring home 'Breezy' on Blu-ray
Category:
Blu-ray's and DVD's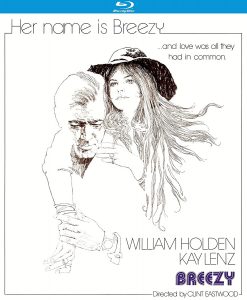 The 1973 movie Breezy almost has a cult following. It was directed by Clint Eastwood and stars William Holden and Kay Lenz. This duo might seem like an odd couple, but on the screen they really do come off with good chemistry.
Holden stars as Frank Harmon, a middle-aged man living in a secluded area of one of Los Angeles' canyons. He is divorced and a little bitter.  Lenz stars as Edith Alice Breezerman, aka Breezy, a child of the 60s, complete with her flower-child mentality and unaware of the harshness in the world around her. She is a free spirit and loves life, people, and animals.
Breezy meets Frank and insinuates herself into his life. This set-in-his-ways man has a hard time understanding the mentality of her free-spirited youth. But she persists and her genuine goodness is intoxicating to him. They become a pair but can he cope with the May-December jokes and glares coming his way? Is their age difference too much for him to bear?
There are some genuinely funny parts in this film. When she asks him if he thinks God is dead, he answers, "I didn't know he was sick."  And when they go to the movies it is a Clint Eastwood film playing.
Breezy was filmed on location and there are some great beach scenes. Also, the traffic in Southern California was much less than it is today, so the entire region looks idyllic. Of course, it has been over 45 years since this movie was filmed. Nevertheless, the characters are timeless and the story is endearing. With the score by legendary Michel Legrand and a theme song that is noteworthy, the movie is a true delight.
Holden was 55 when he made this film. This was not the end of his career and he went on to star in several more movies before his death at age 63. If this movie doesn't make young women fall for William Holden, nothing will. Lenz was 20 when she played Breezy. This was near the beginning of her acting career and she is still working today. Lenz was nominated for a Golden Globe for "Most Promising Newcomer, Female," and Legrand was nominated for a Golden Globe for "Best Original Score." Legrand, along with Alan and Marilyn Bergman also received Golden Globe recognition for the title song.
Breezy is rated R. There is nudity, along with subject matter, and drug references in the film so it is not recommended for young viewers. It's available on Blu-ray from KL Studio Classics.
About the Author
Francine Brokaw has been covering all aspects of the entertainment industry for over 25 years. She also writes about products and travel. She has been published in national and international newspapers and magazines as well as Internet websites. She has written her own book, Beyond the Red Carpet The World of Entertainment Journalists, from Sourced Media Books, is the entertainment correspondent for Good Day Orange County, and has her own TV show, Beyond the Red Carpet, on Village Television in Orange County.