'Brighton Beach Memoirs' on Blu-ray
Category:
Blu-ray's and DVD's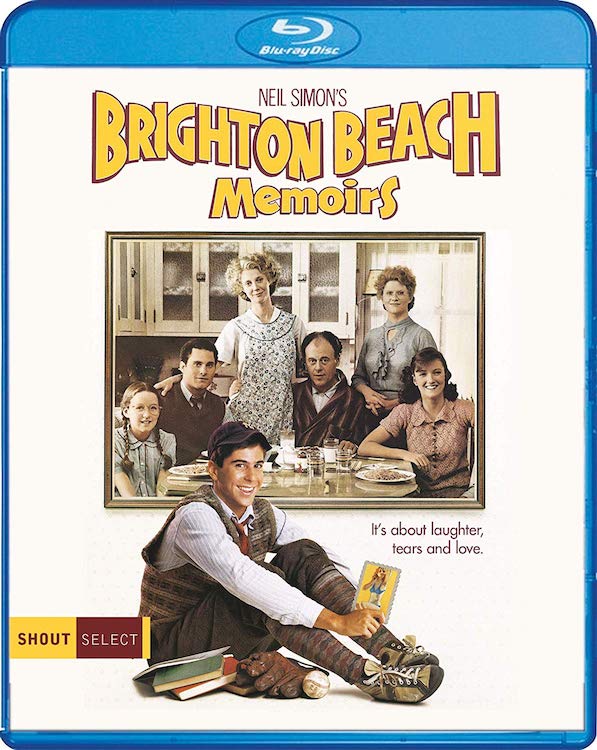 Neil Simon penned both the play and the screenplay of Brighton Beach Memoirs, which was loosely based on his life. Simon penned many plays/films from his life and this one looks at a teenage Eugene Jerome (Jonathan Silverman) growing up in his Jewish family with his mother (Blythe Danner), father (Bob Dishy), aunt (Judith Ivey), brother (Brian Drillinger), and cousins (Lisa Waltz and Stacey Glick) while they're all dealing with personal issues and the threat of another World War looming on the horizon.
It's the late 1930s, innocence of youth was still something to cherish and paying the bills was always on everyone's mind. Young Eugene aspires to be a writer. His cousin wants to be a Broadway dancer, his widowed aunt is starting to think about dating again, and his brother is well meaning but a bit of a screw-up.
The story is filled with funny situations but through it all is the family. Family looks out for each other – no matter what and no matter what hardships they must endure for each other. The bottom line is family is everything, especially for this Jewish family who is worried about their relatives in Europe while also trying to solve each other's personal problems at home.
Eugene is also going through puberty, meaning his inquisitiveness about the opposite sex is always on his mind. The only person with whom he can discuss this is his brother.
This film came out in 1986. It was the first in a trio of Eugene Jerome films, which were semi-autobiographical. After Brighton Beach Memoirs came Biloxi Blues (1988) which had Eugene going into the army, then Broadway Bound (1992) in which Eugene and Stanley began in show business. The most comical of the three is undoubtedly the middle one, however all three combine to show the life of a Jewish writer as he stumbles through all the obstacles of life and family.
Although they are not wealthy, the Jerome family is rich with love for each other. They are a family that displays what a family should be.
The Blu-ray edition is available March 26, 2019 from Shout! Factory. You'll laugh and you'll shed a tear. But you'll always remember Eugene Jerome.
Brighton Beach Memoirs is rated PG-13.
About the Author
Francine Brokaw has been covering all aspects of the entertainment industry for over 25 years. She also writes about products and travel. She has been published in national and international newspapers and magazines as well as Internet websites. She has written her own book, Beyond the Red Carpet The World of Entertainment Journalists, from Sourced Media Books, is the entertainment correspondent for Good Day Orange County, and has her own TV show, Beyond the Red Carpet, on Village Television in Orange County.
Follow her on Twitter