'Brigadoon' on Blu-ray from Warner Archive Collection
Category:
Blu-ray's and DVD's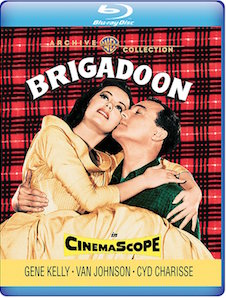 For the first time in HD Blu-ray, viewers can experience the splendor of this 1954 musical tale. Gene Kelly, Van Johnson, and Cyd Charisse star Brigadoon, an enchanting tale of a little Scottish town that has had a curse put on it. The town and everyone in it are put to sleep for 100 years at a time. They only awaken once every century yet for them it has only been one day. So, the town is mired in the past. The caveat of the curse is that if any townsfolk leave the town during the one day they are out in the open, the village is doomed. But if an outsider truly loves someone in the village, he/she is welcomed and becomes part of the fabled village.
New Yorkers Tommy (Kelly) and Jeff (Johnson) get lost while hunting in the Scottish Highlands. All of a sudden they see a small village that isn't on any of their maps. While exploring this place, and looking to find a way home, they enter the mysterious village and learn of the curse put on it and everyone who dwells there.
Tommy meets Fiona (Charisse) and they are instantly attracted to each other. Fiona is preparing for her sister's wedding. The entire town is excited about the event. Today's the day.
Tommy and Jeff also get caught up in the excitement and are embraced by the folks there. With many wonderful dance numbers and memorable songs, the story unfolds over the period of this one glorious day.
At the end of the day the town – and everyone in it – disappears into the mist and is lost for another hundred years. Or are they? True love has a way of winning out.
Under the direction of famed musical director Vincent Minnelli, Brigadoon was nominated for several awards. This is not the only time Kelly and Charisse were teamed together. Charisse appeared in several films in which Kelly also acted and they had some wonderful dance duos including The Band Wagon and It's Always Fair Weather.
Brigadoon was a hit Broadway play before becoming a celebrated movie musical. The Lerner and Lowe songs are lyrical and memorable: "Waitin' for My Dearie," "I'll Go Home with Bonnie Jean," "Heather on the Hill," and "Almost Like Being in Love" will have viewers singing and humming for days.
And speaking of singing, there is a 'Song Selection' bonus on the Blu-ray in which viewers may select a song and watch just that scene. Also included on the disc are four deleted scenes/songs. They are not as tuneful as the ones left in the final cut, however the audio of Kelly singing "There But for you Go I" is a wonderful song.
You can purchase Brigadoon on Blu-ray at the Warner Archive website or where DVDs and Blu-rays are sold. Brigadoon is rated G for everyone.
About the Author
Francine Brokaw has been covering all aspects of the entertainment industry for over 20 years. She also writes about products and travel. She has been published in national and international newspapers and magazines as well as Internet websites. She has written her own book, Beyond the Red Carpet The World of Entertainment Journalists, from Sourced Media Books.
Follow her on Twitter