'Born Free' Limited Release Blu-Ray
Category:
Blu-ray's and DVD's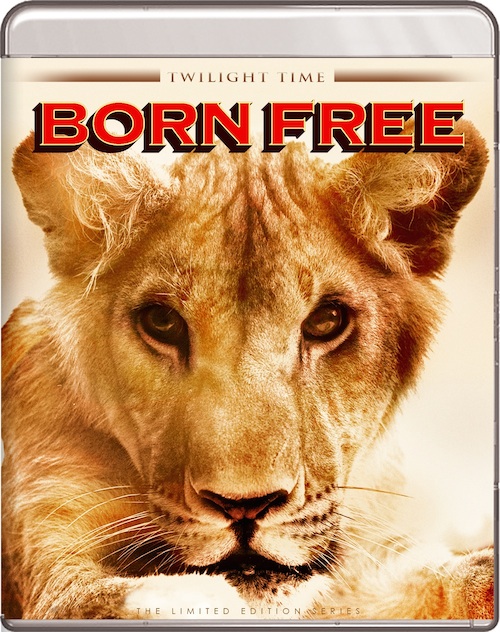 Born Free is a 1966 film that captured the hearts and love of audiences around the world. Joy Adamson, who lived with her husband George, a gamekeeper in Kenya, had one amazing adventure that is documented in this beloved story bases it on the best-selling book.
Joy (Virginia McKenna) loves animals and has, as a pet, an adorable little Rock Hyrax named Pati. She and George (Bill Travers) have enjoyed living in Africa where they can live free. His job is controlling animals that harm the lives and lifestyles of the humans in the area. So, yes, he does have to kill many animals. For the most part the humans and the animals live peacefully.
When he is on a mission to kill the man-killing lion that has been reported in the region, George is attacked by the lion's mate and has to kill her too. Then he discovers the pair had three cubs. So what does he do? He brings them back home so Joy can take care of them until they are old enough to be sent to a zoo. She lovingly cares for the three cubs, but has a special relationship with the smallest, which she names Elsa.
When it comes time for the cubs to go to a zoo, Joy is depressed. She hates to say goodbye to Elsa. They are best friends. George makes a sudden decision to let Elsa stay with them, which pleases Joy and Elsa.
The new little "family" is happy and enjoys their life together. When they take a trip to the ocean, Elsa comes along. This scene with Elsa swimming for the first time and frolicking in the ocean is endearing.
But soon Elsa gets to the point where she needs the companionship of a male lion. Again they face the prospect of sending Elsa to a zoo. This is too difficult for Joy. She insists Elsa needs to be free. But how can that happen? Elsa has been raised in captivity. She is completely tame. To be free means she has to fend for herself. And she cannot.
So Joy and George take on a task that has never been attempted before. They teach Elsa how to be wild. This poor little lion goes through the ringer as they try to wean her off of them and let her adapt to the wild, and at times it looks like she will never be able to live in the wild. But then something changes, and Elsa is now able to live free, as she was meant to live.
This is the story of an adorable and loving lion who lived in two worlds. She is tame yet wild. Once she is firmly set in the animal world she is able to revisit her old "family" but she, and everyone, knows that she belongs in the wild.
The film was shot on location in Kenya. The incredible scenery is part of this spectacular film. Couple that with the beautiful soundtrack (which, on this Twilight Time release is on an isolated track), and the film is more than just the heartfelt story of Elsa.
Born Free won the Academy Award for Best Original Song and for Best Original Music Score, and was nominated for several other awards that year.
Born Free is rated PG for some wild animal action and brief language. Yes, there are sad moments and tearful ones, but it is a story that is timeless and memorable. The Twilight Time limited edition Blu-ray is 3,000 units. Order yours from their website.
About the Author
Francine Brokaw has been covering all aspects of the entertainment industry for 20 years. She also writes about products and travel. She has been published in national and international newspapers and magazines as well as Internet websites. She has written her own book, Beyond the Red Carpet The World of Entertainment Journalists, from Sourced Media Books.
Follow her on Twitter