'The Bedroom Window' on Blu-ray
Category:
Blu-ray's and DVD's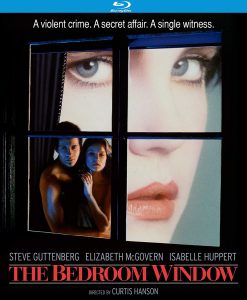 Steve Guttenberg stars in this 1987 suspense film. The Bedroom Window also stars Elizabeth McGovern and Isabelle Huppert in this tale of murder.
Terry (Guttenberg) is having an affair with his boss' wife Sylvia (Huppert). One night Sylvia witnesses an assault outside his bedroom window. Denise (McGovern) is almost killed and Sylvia doesn't know what to do. She clearly saw the attacker. The next day they learn about another woman who was attacked and killed not far from their location, so Terry insists they tell the police what she saw. But Sylvia doesn't want to because she doesn't want her husband to find out about their affair. So Terry goes to the police and describes exactly what he (she) saw. He tells them he was the one who witnessed the attack – and he was alone.
What a tangled web we weave… Terry is then called upon to testify under oath. But details come out in the trial that disqualifies his testimony.
Terry knows for sure the accused is the killer because after the lineup he followed him and, well, things got a little complicated until the next day when Terry learns the man has killed again. This web of deceit he started with the police continues because Terry desperately wants to put this man behind bars.
Denise, in the meantime, has figured out that it was Sylvia who witnessed her attack and not Terry. Terry and Denise devise a plan to bait the killer in hopes that the police will finally be able to arrest him on the assault and murder charges. This will take the heat off of Terry who is now a suspect because of his odd statements to the police.
The movie is a bit simplistic until the second part when everyone comes into play. The detectives are anxious to catch the killer, but with Terry's confusing statements, they are not sure who the killer is any more.
The film was taken from the novel "The Witnesses" by Anne Holden.
The Bedroom Window is an interesting and entertaining story filled with some edge-of-your-seat scenes and a lesson about lying to the police. Once you start, the lies keep getting bigger and bigger.
The movie is rated R.
About the Author
Francine Brokaw has been covering all aspects of the entertainment industry for over 25 years. She also writes about products and travel. She has been published in national and international newspapers and magazines as well as Internet websites. She has written her own book, Beyond the Red Carpet The World of Entertainment Journalists, from Sourced Media Books, is the entertainment correspondent for Good Day Orange County, and has her own TV show, Beyond the Red Carpet, on Village Television in Orange County.
Follow her on Twitter