'Peter Pan' Signature Collection
Category:
Blu-ray's and DVD's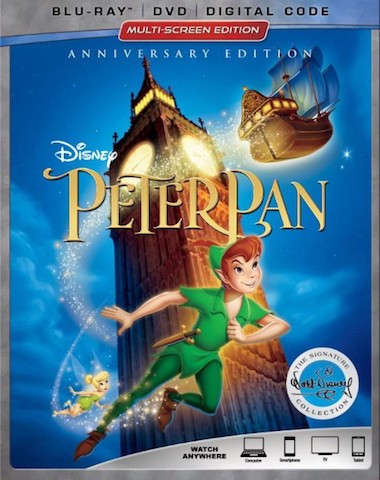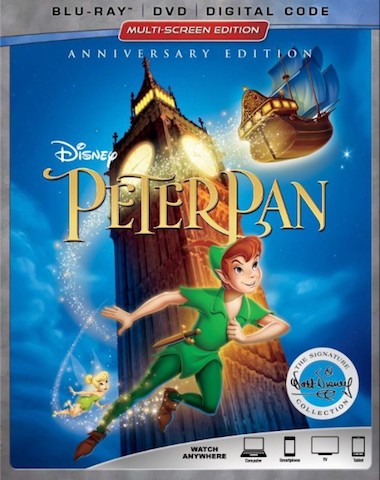 Peter Pan is a classic animated film. It has been enjoyed by audiences for 65 years.
We all know the story of Peter and the Darling children: Wendy, John, and Michael. Their adventure in Never Land with Tinker Bell, Captain Hook, and the Lost Boys has entertained generations of fans. Tink herself has amassed her own worldwide fan base, and Peter, the boy who won't grow up, is a beloved character for all ages.
There are two new sing-alongs as well as a discussion with Kathryn Beaumont who voiced Wendy and Paul Collins who voiced John. They describe recording their lines then acting them out for the animators to see how they would move in different situations. They also discuss being at the studio and with Walt Disney himself.
Another new bonus looks at Walt's love of flying and how many of his films incorporated flying. Let's face it, without Tinker Bell's Pixie Dust, Peter would never be able to get to Never Land.
The classic bonus features are also included in this Anniversary Edition. Peter Pan is the seventh title in the Walt Disney Signature Collection. It joins Beauty and the Beast, Snow White and the Seven Dwarfs, Pinocchio, Bambi, The Lion King, and Lady and the Tramp.
Peter has endeared himself to people around the world since his story was originally published in 1939. And with this classic film, generations of fans have been entertained by the delightful little boy with a lust for life and a great imagination.
About the Author
Francine Brokaw has been covering all aspects of the entertainment industry for over 20 years. She also writes about products and travel. She has been published in national and international newspapers and magazines as well as Internet websites. She has written her own book, Beyond the Red Carpet The World of Entertainment Journalists, from Sourced Media Books.
Follow her on Twitter