'Bloodline' final season streaming on Netflix
Category:
Television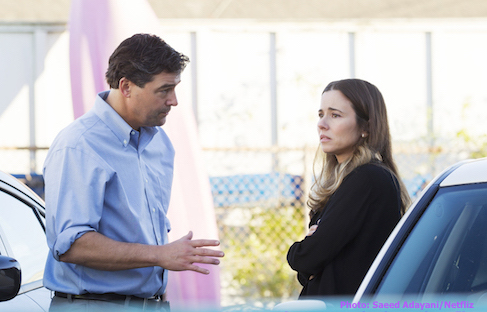 Bloodline centers around the Rayburn clan deeply rooted in the Florida Keys. This seemingly normal and hardworking family starts crumbling after their black sheep eldest son, Danny (Ben Mendelsohn), came home for his parents' 45th anniversary. The patriarch Robert (Sam Shepherd) left it up to Danny's younger siblings, John (Kyle Chandler), Kevin (Nobert Leo Butz), and Meg (Linda Cardellini), to rule on his wish to stay and 'work things out.' Robert's reckless behavior inadvertently ignited fury in the younger siblings. Robert and the matriarch Sally (Sissy Spacek), the products of broken homes, had done a number on their children, particularly on Danny by enabling his unsavory behaviors out of guilt, shame, fear, and disappointment.
Psychoanalyzing this season is a breeze because we're privy to the big picture as well as family secrets. And when you hear Sally uttering "How did we get here?", you would realize that she is totally clueless about how to deal with the world. She doesn't have any insight whatsoever into how her own actions have impacted the children. She is the one who taught them to lie in the name of 'protecting the family.' In her book, lying in any shape or form is acceptable as long as it keeps the wolves from the door. Hence, the final season is all about the Rayburns trying to fend off relentless onslaughts on the Rayburn Empire.
The Rayburn children no doubt pay for their parents' sins, but I believe John, the second oldest of the siblings, is the biggest victim. His fate was sealed when he was forced into taking the savior role when he lied about Danny's 'accident.' He was only doing what he had been groomed for and tried his best to save and protect his immediate family. The nature of profession John (criminal justice) and Meg (legal) chose turned them into the perfect gatekeepers of the Empire. But you know what? You can't save people who won't save themselves. It's a futile exercise.
As a recovering rescuer/fixer, I put myself in John's shoes from the get-go. The journey was tumultuous and physically and emotionally taxing to say the least. It was like playing a game of Whac-a-Mole for ten hours straight. No wonder I cried tears of relief when the game was over. I desperately want to whisk John far far away and let him sleep to his heart's content.
You can watch all three seasons of Bloodline now on Netflix.
About the Author
Meg Mimura is a TV critic who actually watches shows zealously in search of human drama worth watching. She is a member of Television Critics Association as well as Academy of Television Arts and Sciences.