'Blinky Bill: The Movie' on Combo Pack
Category:
Blu-ray's and DVD's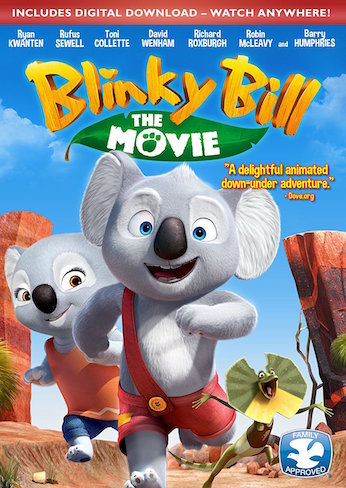 Australians know Blinky Bill but for many Americans he is a mystery. Generations of Aussies have grown up with stories about this adorable and adventurous little koala. Blinky Bill: The Movie introduces him to those of us who have never heard of this little fellow. He's a cute, happy, loving little guy who is a bit clumsy but has a heart of gold.
In the film, Blinky's father is a great adventurer. He founded the Green Patch where everyone is welcome. The older koala is an adventurer and brings back animals who have no other place to live peacefully. One day he sets out to find the Sea of white dragons, telling his son that he'll be back soon and possibly on his next adventure the two of them will go out together.
A year passes and his father never returns. With the evil "crankypants" taking over the town, Blinky decides he has to go out in the wild and find his dad. "An adventurer makes his own rules," and "An adventurer never gives up." Those are what his father imparted on him. Also, "An adventurer keeps his promise." Blinky promises he will find his father and bring him back home.
He meets several interesting creatures in his quest. First there is a cat that would love to eat a koala. Then Blinky "saves" Nutsy, a young orphan female koala who is being taken to a zoo. She wants to go to the zoo, but Blinky thinks she is being captured. Well, things go awry along the way and Blinky finds himself a captive in the zoo. But lo and behold he also finds his father there. Now they must all make an escape plan and get home.
In the bonus features Blinky is described as a "National icon" in Australia. He is a beloved character with Blinky books read to generations of children at bedtime. If your child is not familiar with Blinky Bill yet, he/she will be very soon. Check out the Blinky books on Amazon. There are plenty more adventures with Blinky, Nutsy, and the gang. And check out his facebook page.
Blinky Bill first appeared in 1933 and has been a character for generations of Australians. He is now part of American culture with this movie. Just as Paddington did in 2015 bringing the British iconic character to America, this movie will bring this Aussie iconic character to Americans.
Blinky Bill: The Movie is rated PG for some rude humor.
About the Author
Francine Brokaw has been covering all aspects of the entertainment industry for over 20 years. She also writes about products and travel. She has been published in national and international newspapers and magazines as well as Internet websites. She has written her own book, Beyond the Red Carpet The World of Entertainment Journalists, from Sourced Media Books.
Follow her on Twitter