'Blindfold' stars Rock Hudson
Category:
Blu-ray's and DVD's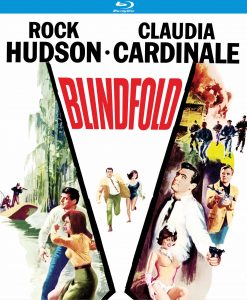 Rock Hudson is a famous psychiatrist in the suspense film Blindfold. Claudia Cardinale and Jack Warden co-star in this 1966 movie.
Hudson is Dr. Bartholomew Snow, a man famous for being a top New York psychiatrist and for getting engaged over and over again. While on one of his morning horse rides through Central Park, a government agent asking for his help confronts Snow. Apparently one of Snow's former patients, Arthur Vincenti (Alejandro Rey), has been taken by the government to keep him from divulging information to the enemy. General Prat (Warden) asks for Snow's help in treating the emotionally fragile man. Snow agrees and the journey begins.
Snow is always blindfolded when he is taken to see his patient. The team of Prat, Davis (Hari Rhodes), and Snow, get on a private jet out of NYC. Snow is the only one that is kept in the dark – literally – about their destination. Upon arrival they then get into a vehicle and travel a distance to an old house where Vincenti is being held.
Then one day Snow is confronted by Vincenti's sister Vicky (Cardinale) who insists her brother has been abducted. Snow proposes (once again) to Vicky to keep her quiet so she doesn't let out the government secret. But slowly the two form a bond and Vicky and Vicky finds herself in the middle of an espionage case.
Meanwhile, a man named Fitzpatrick (Guy Stockwell) visits the good doctor in his office and tells him he is with the CIA. He says the man Snow has been working with is not with the government.
Who is telling the truth? Is Vincenti being held by the good guys or the bad ones?
As the story unfolds, Vicky and Snow decide they must go to help her brother. But just where in the world is he? All they have to go on is Snow's recollections about what he heard and felt while being blindfolded.
With plot twists and fun characters, this is an interesting story but not one of Hudson's greatest. It seems like a low-budget cold war espionage movie but Hudson is likeable as usual! Viewers will enjoy seeing Hudson as a cool, calm, collected psychiatrist caught in the middle of an espionage episode where he must use both his cunning and his composure to help the right side, once he knows which side that is, of course!
Blindfold is not rated.
About the Author
Francine Brokaw has been covering all aspects of the entertainment industry for over 25 years. She also writes about products and travel. She has been published in national and international newspapers and magazines as well as Internet websites. She has written her own book, Beyond the Red Carpet The World of Entertainment Journalists, from Sourced Media Books, is the entertainment correspondent for Good Day Orange County, and has her own TV show, Beyond the Red Carpet, on Village Television in Orange County. Follow her on Twitter.