Blended Combo Pack
Category:
Blu-ray's and DVD's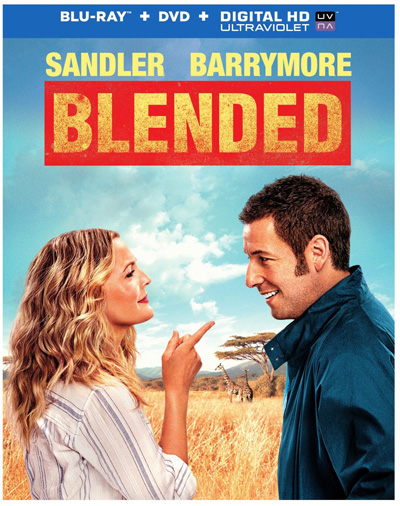 Adam Sandler and Drew Barrymore reunite for another romantic comedy. This time they travel to Africa in the movie Blended.
Lauren (Barrymore) is a divorced woman with two young sons. Jim (Sandler) is the widower and father of three young girls. After being set up on a blind date, which turns out to be a complete disaster, they think they'll never see each other again. At least they hope they won't. But through some strange circumstances, they both end up on a luxurious African vacation with their families. And, to make matters worse, they have to share a suite.
But that's still not the worst part. It turns out this vacation is for "blended" families and designed to bring all the members of the family together in a fun and loving experience. The whole week is designed around the new family unit. And, because they are both on the trip pretending to be other people (that's the way they got the trip in the first place), they must act like one big, blended family, even though they cannot stand each other.
Now adding to all this drama is Lauren's oldest son who resents Jim and doesn't want him "dating" his mother. He's at the age where he's discovering his sexuality. And Jim's middle child still cannot let go of her deceased mother. But his oldest daughter (Bella Thorne) desperately wants to break out of her tomboy persona she has and delve into the world of hair, makeup, and dresses.
Okay, so those are the characters. What happens when they all join together for this "blended family" vacation is the crux of the story. And, if you cannot guess, Jim and Lauren discover they really do like – and love – each other, and yes, the kids feel the same. Hey, I'm not giving anything away here. It's a Sandler/Barrymore romantic comedy. You know they're going to get together in the end.
The bonus features are quite fun. Yes, they did go to Africa to film this and there is a featurette about the location. There is also a featurette about the animals of Africa. There are several deleted scenes and more featurettes. The one that might be of interest to viewers who enjoy seeing movie magic, is about a scene in which they ride Ostriches. Don't worry! They don't actually ride real animals. Through movie magic it looks like they are riding the Ostriches, but they are actually riding, well, you'll have to see this featurette to know how they filmed the scene.
They two actors teamed up for the 1998 film The Wedding Singer and the 2004 film 50 First Dates. The pairing of these Barrymore and Sandler is what makes their films entertaining. The story of Blended is kind of cute, but the combination of Sandler and Barrymore is the salvation of the film. They are definitely a cute onscreen couple.
The combo pack included a DVD, a Blu-ray, and a Digital HD Ultraviolet code.
Blended is rated PG-13 for crude and sexual content and language.

About the Author
Francine Brokaw has been covering all aspects of the entertainment business for 20 years. She also writes about technology and has been a travel writer for the past 12 years. She has been published in national and international newspapers and magazines as well as internet websites. She has written her own book, Beyond the Red Carpet The World of Entertainment Journalists, from Sourced Media Books.
Follow her on Twitter
Like her on Facebook