'Biloxi Blues' now on Blu-ray
Category:
Blu-ray's and DVD's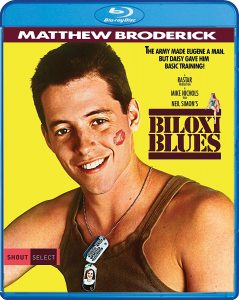 Neil Simon wrote the play and the screenplay of Biloxi Blues, which is the middle of his semi-autobiographical trilogy. This 1988 comedy is hysterical but also has plenty of drama and thoughtful scenes.
Matthew Broderick stars as Eugene Morris Jerome, a native New Yorker who is about to go going through Army Boot Camp in the south with a bunch of young men from different cultures with different sets of personal references. Jerome is determined to be an author and keeps a detailed diary of his days at boot camp.
The ensemble is wonderful and Neil Simon's story is filled with many laugh-out-loud moments as well as plenty of insightful and dramatic ones. These men must learn not only how to be soldiers, but also how to survive as a team in this hot, humid, haunting environment that is Biloxi, Mississippi.
The movie was mainly filmed in Fort Smith, Arkansas, a place that leant itself to the environment of the south. Viewers will definitely get a sense of the heat. As Jerome says, "It's Africa hot."
The new bonus feature on this Blu-ray is a look back at the film and the characters with Corey Parker who played Epstein with a great determination to capture the character in all his brilliance. Parker was familiar with the play however, as he points out, the movie had a little different take on the story and the ending is different from the play.
Parker goes down the line and discusses each actor's performance and what he brought to the film. He also talks about Simon as well as director Mike Nichols, and says many of the cast and crew gathered and bonded over a Passover Sedar during the shoot. An interesting fact that he brings out is that Neil Simon was there for the first two weeks then left the production in the hands of the director and actors. Apparently that is how he liked to do things when it came to filming his stories.
Brighton Beach Memoirs, Biloxi Blues, and Broadway Bound make up the "Eugene" trilogy penned by Simon. Many movies have been made about boot camps, but they don't have the fun and flair of this one by Simon.
Biloxi Blues is rated PG-13.
About the Author
Francine Brokaw has been covering all aspects of the entertainment industry for over 25 years. She also writes about products and travel. She has been published in national and international newspapers and magazines as well as Internet websites. She has written her own book, Beyond the Red Carpet The World of Entertainment Journalists, from Sourced Media Books, is the entertainment correspondent for Good Day Orange County, and has her own TV show, Beyond the Red Carpet, on Village Television in Orange County. Follow her on Twitter.