'Big Wednesday' on Blu-ray
Category:
Blu-ray's and DVD's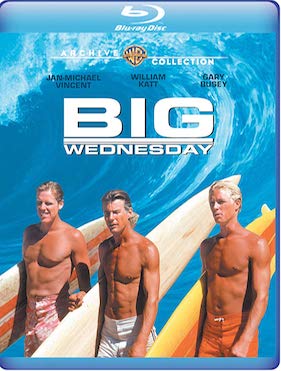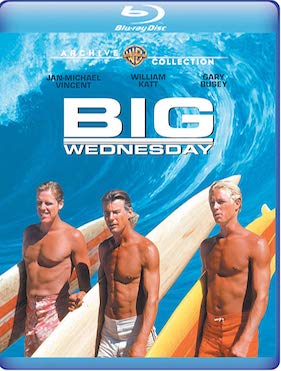 Big Wednesday is a 1978 film celebrating the surfing culture in Southern California. Beyond the gnarly surfing scenes, the underlying story is about friendship. It's the story of Matt Johnson (Jan-Michael Vincent), Jack Barlow (William Katt), and Leroy Smith (Gary Busey) as they navigate the trials and tribulations of growing up and assuming responsibilities. After all, life is not one big wave.
Katt would go on to star in the TV series The Greatest American Hero, Busey maintained his TV and film acting, and Vincent went on to star in Airwolf. Sam Melville who also had his own series, The Rookies, plays the boys' mentor and surfboard maker Bear.
The film is a bit slow and grueling at times, however the soundtrack is wonderful, reflecting the popular songs of the 1960s. The surfing scenes are great to watch however the personal stories of these three friends run the gamut from drunken parties to bar fights to the Army. Life leads them in different directions as they age, yet they know their friendship will last a lifetime.
This is not a Gidget or Beach Blanket Bingo style of surfing film. It definitely involves the surfing culture, but friendship is at it core. Yes, they have their differences over the years, however their love endures.
In the bonus feature, writer/director John Milius admits the three characters were composite of people he knew when he was surfing.
While it is supposed to take place in Southern California in and around Malibu, many of the surfing scenes were filmed in Hawaii. Southern California is known for its surfing culture, but the waves are nothing compared to those in the islands. And it might look like the actors are doing their own surfing, but that's not the case. Professionals stood in for the actors, and rightly so. Some of these waves were gigantic.
Big Wednesday is for the surfing crowd of yore.
The movie is rated PG. There are scenes of sex and drugs.
Big Wednesday is on Blu-ray from the Warner Archive Collection and can be purchased at their website or online retailers.
About the Author
Francine Brokaw has been covering all aspects of the entertainment industry for over 25 years. She also writes about products and travel. She has been published in national and international newspapers and magazines as well as Internet websites. She has written her own book, Beyond the Red Carpet The World of Entertainment Journalists, from Sourced Media Books.
Follow her on Twitter