'Big Trouble' now on Blu-ray
Category:
Blu-ray's and DVD's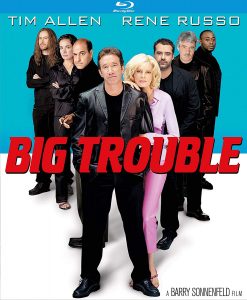 Tim Allen stars in Big Trouble, a 2002 farce with an incredible cast. Besides Allen, Rene Russo, Stanley Tucci, Tom Sizemore, Johnny Knoxville, Dennis Farina, Janeane Garofalo, Patrick Warburton, Zooey Deschanel, Jason Lee, Omar Epps, Heavy D, Sofia Vergara and others make up this cast of characters trying to locate a missing atom bomb.
The entire cast is entwined through a confluence of circumstances that has them all involved in this international plot. First, there is Tucci who has been stealing from his company. Add to that, his company has hired hit men to take him out. Then Allen's son is playing a prankish school game where he has to use a squirt gun to shoot a fellow student. But when everyone collides in one place, well, the craziness begins and everyone is involved as the FBI (D and Epps) close in on the suitcase with the bomb. The thing is, no one knows there is a bomb in the suitcase. Well, almost no one. Tucci and the Russians from which he purchased the weapon know, but, well, you get the picture.As the events unfold, kind of like dominoes, the possibility that the bomb will explode gets more and more likely.
It may not be the funniest comedy, but the actors are fun to watch. After all, they are 16 years younger. This was Vergara's first film and one of the first for Deschanel. For Allen, it was after his hit Home Improvementseries, during his Buzz Lightyear reign, and between his Santa Clause films.
Big Trouble is rated PG-13 for language, crude humor, and sex related material. The disc can be ordered here.
About the Author
Francine Brokaw has been covering all aspects of the entertainment industry for over 25 years. She also writes about products and travel. She has been published in national and international newspapers and magazines as well as Internet websites. She has written her own book, Beyond the Red Carpet The World of Entertainment Journalists, from Sourced Media Books.
Follow her on Twitter